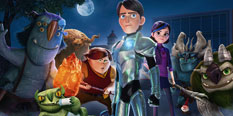 Trollhunters Games
🤔 What are Trollhunters Games?
Welcome everyone to the Trollhunters Games category on our website, a category of games we are very proud of, where we are happy to get the chance of offering you all these games, since we know there are not that many other websites where you can find them, so once again we prove why here is the best place for you to find and play awesome online games!
Trollhunters Games
Trollhunters Games, or Trollhunters Tales of Arcadia Games is a brand new category of games that we are very happy to have created for our website, because it has been a long time now that we have really wanted to bring these games over, especially since we have noticed that there are not that many other websites out there to have such a category, and we always want to be better than other websites, and better than we have been in the past, and we have no doubt at all that the creation of this category is a huge step towards that. You have probably noticed recently that we have been creating categories for animated series created by Dreamworks, and are aired through Netflix, as there have been quite a few of those in recent years, and more of them are coming, and since Netflix is a powerhouse now, and children world-wide watch their shows, we know that these many viewers must also be interested in playing games with their favorite characters, which is something they will be able to do on our website, for sure. While Trollhunters Games is the last one we will create for a while, when there is a new series out, and games based on it, rest assured that we will be the first ones to share them with you, which is why you should be checking out our website as often as possible. When Dreamworks teamed up with the amazing director and screenwriter Guillermo del Toro, there was no chances that this project would not have been a big hit. The show had a total of three seasons, but worry not, since the show was a success, so the creators announced that this was just the first installment in a series of animated shows that are connected with one another, the Tales of Arcadia, with 3Below and Wizards soon to follow on Netflix. Now, we are not going to concentrate on them this time, but on this show, and on this category. If you have already seen the show, do not hold back, and waste no time at all, but start playing our brilliant Trollhunters Games at once, and have lots of fun! The following part of this description is more dedicated towards those who have not seen the show, meaning that they want to learn more about what is going on in it, who are the characters and such. After you learn about that, you also learn what kinds of games will be available here, and surely you will be plenty interested! One day, an ordinary boy stumbles upon a magic amulet, which chooses him to become a Trollhunter. Trollhunters are the guardians that protect the world of humans, as well as the secret world of trolls. Jim Lake is the name of this character, and he is the first human to become a trollhunter. He cares deeply about his mother and friends, is good at cooking, and eventually becomes good at sword-fighting as well. He has a lot of pressure on him, because he has to deal with living a double life, both as a human, and a trollhunter in secret. Toby is his best friend, who joins Jim in his quests, and is dorky and excited about everything around him. Clarire is Jim's girlfriend, who is good at martial arts, loves books, and is always feisty and jolly. There are many other characters, some friends, some foes, some from the human world, and some from the hidden world of trolls, and all of these elements combined in such a fantasy world is what made this show a hit, and so we are not at all surprised that children loved watching it so much! As for these Trollhunters Games, as you must be curious, the category is going to be quite diverse, including adventure games, action games, puzzle games, hidden objects games, and more, so we have no doubt at all that no matter what tastes you have in online games, you will find at least one game to your liking, although the number is sure to be bigger. Well, with that being said, everything we wanted you to know about this category of friv Trollhunters Games has been said, so what are you waiting for? All that is left now is for you to begin having fun with this game right now, only here, where fun never stops! We hope that you are going to be joining us each day, because daily we work hard towards bringing you more awesome content here, so if you want to find all the best new games that we make sure to bring you, being here all the time is certainly going to be helpful. Do not hesitate to invite your friends as well, who will surely love the chance of having fun!