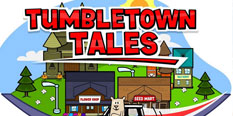 Tumbleweed Games
🤔 What are Tumbleweed Games?
You are now in the Tumbleweed Games category of our website, a category we can guarantee you will not find anywhere else at this moment, so check out these fresh and interesting new games we have prepared for you all, and we have no doubt at all that you will start having fun with them from the get-go!
Tumbleweed Games
In the last couple of months, on our website, we have been working more and more on bringing our visitors new and interesting categories, and we are sure that you have noticed it, since there have been so many kinds of new games added here day by day, and we have noticed that ever since we have started doing so, the number of people that visit our website has increased, meaning that we have definitely made the right decision! One thing that we have done was to create more categories that are based on television shows and movies that are aimed towards children since we know that they are beloved, usually aired all over the world, and children love to play with their favorite characters. Now, that is not the only thing that we have done different from most another website, as we have made an even more important decision, which is to bring you games that are based on shows airing outside the US, sometimes just in the countries where they have been created. Well, that is going to be the case right now with this category of Tumbleweed Games we created, which is a series coming straight out of Canada, with this show airing on TVO Kids, one of the most popular children's networks in the country. Now, this show has had its title changed multiple times, so you will also be able to find these games by searching for them as Tumbletown Tales Games, or Tumbletown Reads Games. No matter what the episode's titles are, they always feature rodents, whose name is usually Tumbleweed, which is why we decided to name this category as we have, and we are sure that we have made the right decision, like always! If you are from Canada and have this channel, you are most probably already familiar with this all and need no introduction, so start playing these Tumbleweed Games at once, and have fun like only here is possible, and that is because there are currently no other websites out there that offer these games to their visitors, in addition to the main one, of course. Now, for the rest of you, who have no idea what this world is all about, but would like to know more before playing the games, we invite you to read this article to the end, as in this next part we tell you more about what the show revolves around, but even more important, we are going to tell you what kinds of Tumbleweed Games online you will be able to find and play here! As we said, the show usually follows some kinds of rodents, in live-action, telling different stories to the children that are watching them, usually with parts of the stories being also shown in the animated form. While there is a lot of live-action in the episodes of the show, the games are all animated, and you can see the cartoon version of the cute animals you love watching in the show. What are the games we are talking about? Well, let's give you more information since you are surely very curious! The category is going to be quite a diverse one, as it includes car games such as Seedball, games where you get to create your own scenes and movies, in the game called Tumbletown Movie Maker, you can build the castle of your dreams with the game called Castle Constructor, or you can practice all sorts of sports together with the rodents, in the excellent game called Tumbletown Mathletics, where you also learn maths at the same time, so even better, right? As you can clearly see what we described to you about the show and even more important, about the games, there is lots of fun waiting for you on this page, so it would be a real shame if you did not give these games a chance, especially since we can guarantee from our own experience with them that you are going to have a great time! That is everything we wanted you to know, so start playing right now, and see for yourself how cool this world is! Don't forget to invite all of your friends over, whether or not they are fans of this show, since they will be able to discover a whole new world of fun on our website, one where everyone is and should be included, since we have worked hard to bring you the best games on the internet, all for free!