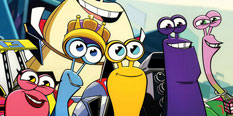 Turbo Fast Games
🤔 What are Turbo Fast Games?
We are now welcoming you all to the Turbo Fast Games category, a category of games we are very happy of, as we have managed to bring you an interesting line-up of games, all of which we are positive you will enjoy, just like we have had, and just like you enjoy all the awesome categories we always bring you!
Turbo Fast Games
Turbo Fast Games, or simply Turbo Games, is one of the categories on our website that we are most excited about, as this is a category that we should have had on our website for a long time now, but somehow we did not get the opportunity of creating it. Well, that is no longer the case, as it is finally available here as well, and we are sure that the many interesting Turbo Fast Games that we have here are going to be enjoyed a lot by all those who give them a try, weather or not they are familiar with this franchise or not, and that is one of the reasons why we are so excited to finally have this series available here. We are sure that as soon as you begin playing the games on this page, you are going to agree with us that it was worth it to bring it. Turbo is an animated film from 2013, which had moderate succes at the box-office, and because of that the people of Dreamworks believed that the story could have a continuation, but not in the form of a movie, but in that of a television series. Well, they were certainly right in that idea, considering that the show premiered in 2013, and then ran for three years, for a total of three seasons with 52 episodes. The special thing about this show is that it is the first ever animated series acquired by Netflix to be streamed exclusively for their network, and after it, there have been numerous series from Dreamworks that Netflix is distributing, series for which we are also going to bring you games here, since we want to make sure that our website is as complete as possible. That means that we look at television networks, streaming websites, and the cinema as well, so that whenever there are characters you love in any of these mediums, you get to play online games with them here for free! While the series does not produce new episodes any more, the fact that they are available on Netflix in the US and the other 40 territories they stream, and they are also on television in other countries, it means that children still discover these characters all the time, so obviously they are also interested in playing Turbo Fast Games. They might also come to this page after seeing the movie, and that is great as well! We will now be using the next part of this description to tell you more about the series and its characters, after which we are also going to tell you about what kinds of Turbo Fast Games friv you will be able to find here, and we are sure that after reading all these things, you will want to play these games at once! In the film that serves as a prequel to this series, Turbo, a snail, has won the Indianapolis 500 race, and after that event, Tito and Turbo have built a city for snails. They did not build just a city, but a race track for them to race on as well, to keep the tradition going. The show sees Turbo continuing his racing adventures, together with many of his friends and brother Chet. Each new episode presents a new adventure for the gang, and most often than not, the problems that they encounter in each episode are solved through racing, since that is one of the main aspects of this show. The cast is colorful, the episodes interesting, so what are the chances that the Turbo Fast Games are not fun? Well, they are 0, as we have played each and every game on this page, and loved them all the way through! We will now tell you more things regarding them, so do not hesitate to read this, especially since it is the final part of this description. Of course, firstly, you are going to find racing games here. Then you have more simple types of games such as memory games, differences games, and puzzle games, and we are positive that you are going to love them all, just like we have had. Well, with everything that we have told you so far about the Turbo Games online category, we really hope that there isn't one of you who still needs to be convinced of playing these games, but instead you are all going to start having fun with them at once. Remember that this is just one of hundreds of categories on our website, which are all worth checking out, so make sure to do so, and come back to our website daily, so as you do not miss out on any of the many brilliant games we make sure to bring you every day!