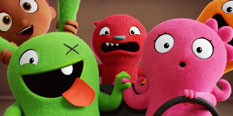 UglyDolls Games
🤔 What are UglyDolls Games?
Only on our website, you have the chance to find and play the best collection of UglyDolls Games online, something that we're hoping you are going to do right away because having fun on our website and with our great games is nothing you should ever postpone!
UglyDolls Games
As you can see, being on our website is a great idea if you watch all of the animated movies that appear through the year, because you can't say that you know many other websites out there that provide you with a category of UglyDolls Games, which is based around the movie from last year with the same name, and which might not have been the biggest box-office animated movie in history, but it still got shown all over the world, so there must be a few children out there wanting to play games with UglyDolls. Also, even if you have not seen this movie, as some members of our administrative team, you can still have plenty of fun playing the games based around it, since they loved them too. Sounds like a great idea, no? Well, it is, and in this following part of the article we are going to tell you what the movie is all about, offer you some information on the main characters that you will also encounter in the games you will play, and, obviously, more details on what kinds of friv UglyDolls Games will be made available for you here free of charge, so surely you are going to really become interested in this page and love all of the games you are about to play! Firstly, you should know that the movie is based around the series of plush toys with the same name, who are dolls that are colorful yet ugly, who look bad but have a good heart inside of them, with each different character being someone else and exhibiting good traits for children to emulate. Not everyone is perfect, and through this movie and the adventures that the dolls go on, they are going to learn that they are important, they are loved, and how important it is to love yourself first if you want to be accepted by everyone! These ugly dolls have been thrown into UglyVille because they did not end upright, but despite being dolls, they get to speak and talk just like humans. Moxy is the main doll that we follow in this movie, who dreams of overcoming her problems and becoming the doll of a child, despite the mayor and other people saying that it is not possible. She and some friends of her use the portal through which the Ugly Dolls arrive to try and reach the other part, the Big World, where hopefully they will find the embrace of children who will play with them and take them in. Nothing is going to stop our band of brave Ugly Dolls, and they are going to have an adventure into the unknown unlike they could ever dream of! As for the online UglyDolls Games that have been inspired by the movie, there are not that many of them out there, but those that are, are very fun. We're talking about a game called UglyDolls Factory, where you get the chance to use your imagination and create a doll according to your own creativity, sort of like in character creator games, and then you have a nice hidden objects game where you get to see lots of awesome screenshots taken from this movie, where you have to find objects that do not fit in, just like the Ugly Dolls. Now that you have become aware of this page and are more familiar with our online UglyDolls Games, nothing should be holding you back from starting to play and enjoy them right away, having fun like nowhere else you can, and we hope that this is not your last stop on our website, since we have countless more amazing friv categories waiting for you, all with their own fantasy games, and trying them out also is going to be bringing you fun and a great time for days!