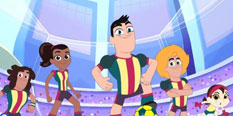 Underdogs United Games
🤔 What are Underdogs United Games?
Play Underdogs United Games online and join the best new cartoon football team ever!
Underdogs United Games
Underdogs United Games is one of the latest sports-themed categories of games online here, based on a cartoon from Latin-American, named just as the title of the category, which in turn was based on a 2013 movie from there called Megagol, making this a spin-off!
The show takes us to a universe where everyone, from kids to old people, is obsessed with sports, mostly soccer, but there is also basketball, baseball, golf, and many more! We are not alone at all in this new universe, but we follow a team of so-called underdogs, who have all the passion for the sport they need to conquer any challenge, and they are:
Capi
Emma
Gigi
Kiko
Beto
Worst
With them, you will meet up directly by playing our games with Underdogs United online, in the first of which you will be welcomed to Sportsville, the name of the show's setting, where you get to play with balls and help the people in the town by doing so, and in the next one you are invited to become a Sandwich Champion, where you use the skills you have for football to grab ingredients and make food for your teammates.
Quite interesting, no? We're sure we've got you hooked, and you can bet that whenever new games with these characters appear on the internet, we will be among the first ones sharing them with you, just like with do for all our other pages, hence why we invite you to come back here as often as you can and never miss the games we've got for you all daily!