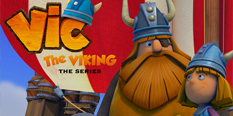 Vic the Viking Games
🤔 What are Vic the Viking Games?
If you like vikings, then playing Vic the Viking Games on our website is definitely the right thing to do! Join Vic in his village of vikings, where you are going to have a lot of fun, but only if you play Vic the Viking Games on our website!
Vic the Viking Games
It's time for you to discover yet a new exciting games category on GamesZap.com, which is the Vic the Viking Games category we have just created, which is a new category based on a franco-australian television series for children, which we are sure that some of you who are now reading this have already watched. Of course, some of you may not know it, but that does not mean you can't play the wonderful Vic the Viking Games added on our website! You don't really have to know the cartoon it is based on to enjoy playing an online game, especially if it is fun, and that we can guarantee, that on GamesZap.com you can find very fun and awesome Vic the Viking Games, that we have added with great care and lots of love! Of course, if you want to get to know the show better and learn some things about the characters which you will encounger while playing Vic the Viking Games on our website, you can do all that by reading this description until it's end. In addition to information about the show and it's charaters, we will also provide you with information about the Vic the Viking Games you can play right now, and also about the plans we have for this category, which we want to fill with the most awesome games on the web! Vikings have been a staple of media since forever, which is why it is no susprise that we also have a cartoon series with vikings, as children love these kind of characters. Vikings were strong, they traveled the world to conquer new land, and have their own characteristic style of heavy armor, beards, and many of them have red hair. Vic, the main character of this show, is not really like all other vikings, as he is just a boy who is kind of frail, but is still very ingenious, in spite of his young age. He is kind of special in the village, as his father, named Halvar is the chief of the village. Ylva is his mother who is always bossy. There are other interesting characters in this village, like a druid named Urobe, Tjure and Snorre who are always friendly-fighting, or Gilby, who is Vic's rival, who is jealous that Vic can go and sail with the men. As you can see, there is never a dull moment in this viking village filled with interesting and unique characters, and we are verry happy that we can see Vic's adventures, and his journey of transforming himself from a boy, to a viking man. At the moemnt of the writing of this description, in the Vic the Viking Games you will be able to find one puzzle game, but we are pretty positive that later, more and more fun Vic the Viking Games will be added, and of course, you will be able to play them all for free! Well, no more reading, and go ahead and start playing Vic the Viking Games right now!