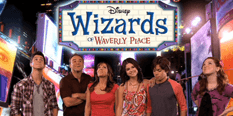 Wizards of Waverly Place Games
🤔 What are Wizards of Waverly Place Games?
Right now we want to invite you all to play Wizards of Waverly Place Games on our website, because this is a really awesome new category of Disney Channel Games, where we have added a lot of interesting games. Get ready to use magic and go on crazy adventures with these characters, but you can only do that if you play our Wizards of Waverly Place Games!
Wizards of Waverly Place Games
Lately on our website, we have given a quick look upon the series that used to air on Disney Channel and were really popular during the time that they aired, because we know that the shows are still shown on re-runs often enough, and that there are still many fans of them that are still playing online games, and would like to have fun with some of their favorite characters. After Hannah Montana and Zack and Cody, it's time to turn our attention to a third series, whcih ran at the same time as these ones, which was on their level of popularity, called Wizards of Waverly Place, which we are sure plenty of you still know, and plenty of you still want to play online Wizards of Waverly Place Games, something we are offering you all the chance to do right now, on our websit, for free, obviously. Our Wizards of Waverly Place Games category is definitely a really great addition to our roaster of categories, and we are sure that everyone who has played or will play these games is going to agree with us. Even after five years after the final episode aired, we know that the show is still being watched and loved by plenty of children or teenagers, and it is them we were thinking about when we created the Wizards of Waverly Place Games category and put in the time in order to find awesome games based on the series and add them on this page. Trust us when we say that all the Wizards of Waverly Place Games in the world that yo want to play are going to be found on this page, so there is no reason for you all to look anywhere else. The show was one of the most watched shows on the network while it was still airing, and it even had two movies made as sequels, one in 2012, and one in 2013, and the fact that the show also managed to earn three Emmys during it's time, stands to prove of how awesome it is. If by chance there are any of you out there who haven't heard of this show before, and you need some convincing before you actually begin playing Wizards of Waverly Place Games on our website, then we kindly invite you to keep reading this description we have written, where you will be able to find many interesting information about the show, it's characters, and of course, in the end, about the games you will be able to play here. The show is focused on the Russo family, which is a family living in New York, above a sandwich shop which they actually own and run. At first glance, they might seem just like your normal family, but the show shows us that that is not the case, since the Russo children are actually wizards. Their father was a wizard before, and their mother was a normal person all the time. All the three children have magic powers, wizarding skills which their father teaches them, in order to become good wizards. At the same time, he teaches them to live life without magic as well. Why would you do that when you have magic? Well, that is simple, and that is because the three of them will not always be magicians. After they will participate in a wizard competition, only the winner is going to keep his powers, as that is the way things work in the world of wizards. Alex, the girl, is the main character, who was played by Selena Gomez, something which really made her popular. She has an older brother, Justin, and a younger one, Max. While the three teenagers have to deal with their life as wizards, at the same time, they need to do their best to keep it a secret, while also having to deal with normal things like school, love, and growing up. Now, you are definitely curious about the Wizards of Waverly Place Games you will be able to find and play on this page, and let us tell you that are as exciting and fun as the show is. Most of the games are based upon a certain episode of the show, where you will do magic, play pinball, escape out of mazes, fight monsters, and go on all sorts of really interesting adventures. The games are always going to be filled with magic and fun, so you should definitely play them all! Since you have learned all there is to know about the Wizards of Waverly Place Games, then starting to play the games is definitely what you should be doing, and what we hope you will begin to do right now, because that is the only way you will be able to have tons of fun!