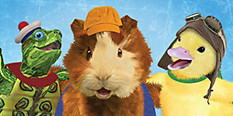 Wonder Pets Games
🤔 What are Wonder Pets Games?
We are very happy to be able to bring you all Wonder Pets Games, which is an awesome category of Nick Jr games we have created for our website, where we know that you are going to have unlimited fun, doing all sorts of things, having all sorts of adventures, and you will never, ever be bored at all, trust us!
Wonder Pets Games
Preschool children are always going to be able to find the best new games with their favorite characters from their favorite shows on our website, which is what we are proving once again with the addition of the games category called Wonder Pets Games, which is one of the latest category of Nick Jr Games, for which we are very happy, since we are going to add some really cool games in it, one more fun than the other one, and all of them educational, so by playing the games in this category you are going to have fun and learn many interesting things at the same time. Really awesome, don't you think? Well, if you are here, then you should not leave for anything in the world before you check out some of the Wonder Pets Games, because we are certain that as soon as you begin playing them, you are going to have the time of your life, and you will want to continue playing the other ones as well, until you will have played all of them, and had a really great time. The Wonder Pets Games on our website are also diverse, which is why we believe that they are going to be loved by children of all kinds of ages, and with different tastes, so no one is going to be disappointed with the games they are going to play on this page! If you are already a fan of Wonder Pets, because you have seen many of it's amazing episodes, if not all of them, then we are sure that you are most eager to begin playing these Wonder Pets Games, and maybe you have already started doing so, as soon as you entered this page. For the rest of you, who might not have seen any episodes of the show, but were curious about this category, so you entered it, and now want to know more about the show and the Wonder Pets Games based upon it, then you are doing the right thing by reading this description, because, like with all of them on our website, it's purpose is to inform you on all of these things, and to prove to you that it is worth your time to give these games a chance. We are now going to start exploring the world of this amazing show, and we hope you stick with us until the end, when we are going to give you more details about what interesting and diverse things you are going to do in this category with these games, and without a doubt, in no time at all you will begin to play the games and have the best time ever! The show revolves around three characters, Linny the Guinea Pig, Turtle Tuck, and Ming-Ming Duckling, who are classroom pets for elementary school children. Why are they called Wonder Pets? Well, because, together, they act as a team of superheroes, whose job is to rescue baby animals from all sorts of dangers. The main aspect that is showcased in the show and what the show aims to teach children is the importance of teamwork, and the benefits that this amazing thing has for everyone. The show has a really unique animation, because it is actually animation, since animators manipulate pictures of real life animals, and in addition to that, the show uses drawn objects, and not characters. The other really amazing thing about the show is that a pretty good deal of the dialog in it is sung, and you know very well that children love music and singing. Obviously, the importance of teamwork, the interesting animation technique, the singing, and all of these wonderful aspects that make the show unique are also going to be present into the amazingly fun Wonder Pets Games we have on our website, about which we are going to tell you more things right now, because we know that you must be very curious, since playing games is the thing you have come here to do. You will go on different adventures with these characters, as most of the games are adventure games, but also have dress up games, skill games, thinking games, and no matter what format they take, they are fun, and also teach the player many important lessons. Really interesting, right? Well, we hope that with everything that we have written here, we have convinced you that it is worth your time to give these games a chance, and that you should start playing them right away! There is no other website that offers awesome Wonder Pets Games like these ones, so you are in the best place for them, so don't leave! Pick one of them to play right now, and in no time you will see that you have played them all and have had a really great time!