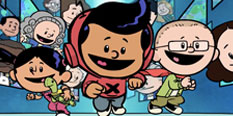 Xavier Riddle and the Secret Museum Games
🤔 What are Xavier Riddle and the Secret Museum Games?
Join our world of adventures as you travel to the past to meet historical figures as kids with every fun game belonging to this category of Xavier Riddle and the Secret Museum Games we recommend kids everywhere!
Xavier Riddle and the Secret Museum Games
Xavier Riddle and the Secret Museum Games is the newest category of PBS Kids Games online that we're very happy we have added here for you all as an administrative team, once again proving why our website should be everyone's to-go place for the latest and most fun new games on the internet, since this is a new category that we have put together first, so that all of the kids who watch this show and then immediately after getting interested in playing games based around it can do so immediately. Xavier Riddle and the Secret Museum is the newest animated show to have aired on PBS Kids, and while we know that at this moment it is available only in the US, we have no doubt at all that it is soon going to be released all over the world as well, and when that time comes we will be ready. If you've already seen the show, then you just want to start enjoying our Xavier Riddle Games at once, something we invite you to do right now since nothing should be holding you back. If you are indeed holding back because you have no idea what the show is about, don't worry. If you read this article to the end you are able to find out what the show revolves around, you learn some interesting facts about the main characters in it, after which you also get to learn what kinds of games with Xavier Riddle will be available here for free, and all of this information is surely going to convince you to start enjoying the games as soon as possible! First of all, know that the series is inspired and an adaptation of a series of children's books called Ordinary People Change the World, and while the show has a lot of adventures and activities and things going on, its main purpose is that to educate, since the episodes in the show take children back to the early days of the most important figures in history, and shows us how they developed to be the great men and women that they have become. This way you get a more complete look at some of the world's most known historical figures and have a fun time watching the telly. In addition to learning facts, the kids that watch this show also learn to be kinder to one another, as well as builds up their character. How does the story unfold? Xavier Riddle is the title and main character of the show, and he joined in his adventures by his strong little sister Yadina, their friend Brad who is quite reluctant in their missions, but still strong nonetheless, and they also have a robot friend by the name of Berby. Each episode presents a problem for the trio to solve, and because they can't find a solution, they go to the Secret Museum, a place that gives them the ability to travel in time and meet historical figures that have solutions, only when they are children. Why are they, kids? Well, it is easier for the watchers to identify, and if the important people are also kids that means that their solutions will be easy to understand by the target audience. Xavier, the leader of the group, is always very excited to go on new travels, lives for adventures, and loves basketball and art more than most other things. Yadina is a natural-born talent, and she carries around a pet turtle. Brad is the most nervous one of the three but stands up when needed just like the action heroes he loves so much. At the beginning of this series, the Xavier Riddle and the Secret Museum Games category has but one game available for you all, a game called Hero Maker where you get to customize your character as a time-traveling hero that would be able to fit together with the main character. Of course, this is just the start, so we expect plenty of other types of games to be added here in the future, and only here you will find them first! Enjoy, and don't stop here, since we're positive that everyone is up for even more of our new and interesting content, as we have hundreds of amazing friv categories, all of which we invite you to try out!