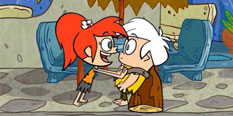 Yabba-Dabba Dinosaurs Games
🤔 What are Yabba-Dabba Dinosaurs Games?
Only now and here you can now enjoy the newest and most fun Yabba-Dabba Dinosaurs Games from Boomerang, so all fans of these lovely characters should give the games a go right now, and see for themselves how cool they are!
Yabba-Dabba Dinosaurs Games
While there is already an awesome category of The Flintstones Games that you can find and have fun with for free on Friv Games Today, we knew that a separate page had to be created for the new and awesome category we've prepared for you all here, the Yabba-Dabba Dinosaurs Games one, which is based on the new Boomerang television show with the same name, which is a television series that acts as a spin-off from the original series, but which brings back the many characters that you love a lot, in addition to new and interesting ones, awesome dinosaurs from the prehistoric age, all in new and high-quality animation, with one awesome adventure waiting for you after the other. Now, if you've arrived at this page because you've already seen the show and love it, nothing should be holding you back from starting to enjoy these online Yabba-Dabba Dinosaurs Games right away, but in case you have not seen this show before and would like to know more about it before trying out the games, you only need to read this article to the end, from where you learn what the show is about, who are the main characters, and you will also be able to learn what kinds of games will be made available so that we can convince you it is worth trying out everything on this page! Instead of focusing on the adults from the older series, it is the two children of the families that are at the focus of the story, Pebbles, and Bamm-Bamm, who are not just children of two neighboring families, but they are also best friends, as one would expect. The two usually end up venturing outside their normal setting, the city of Bedrock, but out into The Crags, which is a vast land that is inhabited by a lot of dinosaurs that they meet, which is where the title of the show comes from as well. They take their dino pet along for the ride, and into this new land they make new friends, sometimes enemies as well, and every new adventure that they have is a new opportunity for them to learn an important lesson, which will then also be learned by the kids watching their antics on the screen. Now that you've become more familiar with the premise of the show, it's setting, and characters, you have no excuses to not play our friv Yabba-Dabba Dinosaurs Games, which we can guarantee can be played by anyone, even if they have not seen the show before. The games that the series has started with are memory games, but this is just the start, and there's no doubt in our minds that you will love any further games that are still to come here, and you can be sure that Friv Games Today will always be the first website to give you the chance to play these games. Of course, don't forget to visit the mother category of games with The Flintstones, and if you have friends who you think would love this page of Yabba-Dabba Dinosaurs Games, invite them over, or simply make them come here for the sheer number of amazing games we have all the time, as you can be sure that we are the best place for children all over the world to come and enjoy friv games like nowhere else! Have fun!