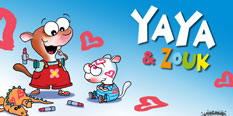 Yaya and Zouk Games
🤔 What are Yaya and Zouk Games?
This new category of Yaya and Zouk Games is definitely a blessing for our website, and we are positive that you will be able to find one great game in it after the other, all of them highly recommended, so make sure to check them out now, and enjoy them from start to finish!
Yaya and Zouk Games
One of the newest categories of games that you can currently find on our website for free is this one, the one on the page of which you are right now, a category called Yaya and Zouk Games, where you will find one awesome game after the other, all of them highly recommended, and we are sure that this is making lots of children happy, because this show has been around for a while now, and while it is airing in multiple countries all over the world, we know that the fans of it have not had access to games based on it before, which is something we are taking care of right now, and something that is sure to make our visitors, and many others too, very happy! It is another series of games aimed towards preschool children, just like the games from it are as well, which is great, because we have noticed that children that age are most wanting to play awesome online games, and we are very happy that we can be the ones to give them to them for free, just like we are doing right in this instant, with this category. It is a show that is not only fun to watch, but educational at the same time, and we believe it would be a shame if any of you miss out on what it has to offer! Now, if you are already fans of this show, we are positive that the thing you will want to do right away will be to start having fun with these Yaya and Zouk Games, and there's nothing stopping you, trust us on that, so give them a go right now, and you won't regret it! For the rest of you, who are now on this page, but have never heard about the show and its characters, but would like to know more before you decide if you want to play these games or not, we are inviting you to read this article to the end, because up next we will tell you what it is about, who are the main characters of it, and we will then also tell you what kinds of Yaya and Zouk Games you will be able to find and play for free on this page, and something tells us you will be very happy with what you find here! Like the title suggest, the show follows two characters by the name of Yaya and Zouk, a sister and brother duo, who exit out of their real lives and go into the imaginary world, where they have all sorts of adventures together with different toys that come to life, having fun, discovering new things, and learning a lot in the process as well, which is what children can also do while watching these characters. Yaya is the older one, although more naive than her little brother. She talks a lot, is very enthusiastic about everything around her, ready to discover new things, and always in a good mood, that's for sure. Zouk is younger than his sister, obviously, but is definitely the brilliant one in the family, as he is without a doubt very smart. While he loves going on adventures and playing with his sister, he is also appreciative of his free time. That's most of everything you need to know regarding the show, so it is time for us to tell you what kinds of Yaya and Zouk Games online will be made available here since this must be what you are most curious about, no doubt! The category will be diverse, including memory games, puzzle games, hidden objects games, fishing games, adventure games, skill games, and many more. No matter what your tastes in online games are, you will find something you like here, and we are sure that not only will you have fun with the games on this page, but you will learn a lot from them, and develop all sorts of amazing skills. Since we have told you everything we wanted you to know regarding this page, what are you waiting for? All that is left for you to do is to start playing these Yaya and Zouk Games, and enjoy them! Don't stop here either, because we have thousands of games available here, one more fun than the other, so it would do you great to check them out, and you will be able to keep having fun for as long as you want, which only here is possible, or so we believe! Enjoy!