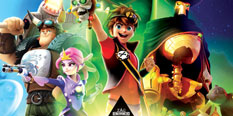 Zak Storm Games
🤔 What are Zak Storm Games?
Welcome everyone to the Zak Storm Games category, which is a brilliant category of games that you cannot find on many other websites, which you might have noticed if you are here because you searched for them. We have made sure to bring you many awesome games on this page, so start playing them right away, so that fun does not wait on you for even one second!
Zak Storm Games
It is with great pleasure that right now we can invite everyone from our website to the Zak Storm Games category, which is yet another awesome category of games we are very happy to have created, since we have noticed that most other websites like ours do not have it, so once more it is proven why our website should be your go-to place for online games, since you will find here content that you cannot find anywhere else, that's for sure! Why is that? Well, we are always looking at multiple channels with content for children, not just the major ones, so we bring you games from such networks, which is the case with these Zak Storm Games as well, since they are based on the show that is not airing on one of the most popular channels in the US, but it also airs in many countries all over the world, so the show has quite a following. Since it debuted in 2017, and a second season is already in production, we believe that to be proof enough of its popularity. In the world of children's television, if a show is not popular in its first season, it is immediately canned, so if this one is still around, it means people like it. For those of you who do, it might have been quite difficult to find online Zak Storm Super Pirate Games, as there are not that many of them available, and to find some of them, you have to use other languages. Well, that will no longer be the case, since we have created this page, and brought over all of the games based on this show that is available on the internet, so you can have fun with your favorite characters right away! Of course, there is also a chance that you might have come to this page without knowing of the show, so you are not yet decided if you want to give these games a go or not. Well, if that the case, we are hoping to convince you to try out our Zak Storm Games, by telling you the main things you need to know about the show right here. We will now be telling you what the show is about, and who are the main characters that we follow, and after all that, we can also tell you what kinds of games are going to be available here, so with all this information, there is no chance you are not going to be excited about these games! One day, Teenager Zak Storm goes out surfing, and with him, he takes his father's necklace, when he is suddenly taken over by a giant wave, and ends up being transported in the Bermuda Triangle. There, he is picked up by a pirate ship named the Chaos, which has in it a talking sword named Calabrass. It is then when he finds out that this necklace contains a gem called the Eye of Beru, that gives its owner special powers. Now, Zak needs to get home, but the only way he is able to do so is if he becomes the captain of the Chaos, with the goal of uniting the Seven Seas. It is an amazing adventure he has to go through to achieve that goal, and he is not going to do it by himself, as he forms a crew with amazing people, such as a ghost boy, a princess from Atlanta, a space alien, and even a viking. Quite the colorful cast, right? They are all brought together by Zak's courage, mission, and sense of adventure, and together they are going to be having a tremendous time, and you too, by watching them. Of course, you will be able to have even more fun if you interact directly with these characters, and the only way to do it is by playing Zak Storm Games. There are not that many available at the moment, but they are still quite varied, as you will find action games and adventure games here, as well as puzzle games and memory games. Of course, as time goes by, more and more content is going to be brought here, and we are positive that our website will become the best place to play games with these characters! Now that everything we wanted you to know of this Zak Storm Games category has been said, we hope that you will do what you must do, which is give these games a chance right now! We have had a really great time with them, so what are the chances that you are not also going to? When you are done having fun with the games on this page, remember that we have hundreds other amazing categories, all waiting with their great games for you to play them!