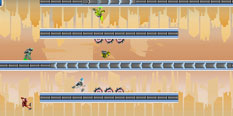 5 Player Games
💡 Play similar online games!
🤔 What are 5 Player Games?
We now want to invite you all over to the 5 Player Games category, which is a category of multiplayer games online which is not available on most other websites with online games, so there are no reasons at all for you not to try out these games at once, and have fun with them like it is possible to have only here, on Friv Games Today!
📂 Related Categories

2 Player
5 Player Games
We have seen that most other websites with online games on the internet have no category of 5 Player Games, so of course, we figured that we would be the first ones to create it, which is why right now you find yourself on the page of it on our website, where we hope that you find what you were looking for, which is games that can be played together with four other real players. We are sure that there have been many children over the years searching the internet for 5 Player Games friv, and were really disappointed when they did not get the chance of finding them, since these games usually get mixed up with 4 Player Games or 3 Player Games, so it makes it harder for you to find those that you seek. Who would want to go through all of the other games in the category to find the few that they have been looking for. Unfortunately, you have read that right, as there are not that many 5 Player Games online available, but those that are, we have found to be really fun to play, so we are sure that you are not going to be disappointed in this category in the least. In recent years, online games have become more and more popular, and after the technology became more advanced, there have been more and more multiplayer games online created, games that you can now play easily. Of course, we do not mean games where you need to have the other players besides you, but games where you play against other people on their computers in their respective homes. Still, the ones that you will be finding on this page of 5 Player Games are mostly going to be games where all the five players trying it out need to be in the same room, since they are all going to use the keyboard to control their icon in the game, and give it their best to win. That is what draws so many children towards these games, as it is more exciting to play against someone that is next to you, and it is very fun when there are two players, but imagine just how much more fun it is when there are five of you together, making the competition a harder one, but a more fun one at the same time. It is because of these reasons why we have played such games ourselves as well, and why we knew that this category would make our website an even better one than it already is, and if you are on this page for the first time, checking out these games and playing them is going to make you agree with us, no doubt about it! In this next part of the description we are going to be telling you more about the games you are going to find on this page, so do not hesitate reading this carefully through the end. Goose Game, Holmenkollen Ski Jump, G-Switch 3, Sumo Deathmatch, and Puttin Pirates are the five games yoiu can find at this moment in this category, so we can say that it is comprised of racing games, skiing games online, skill games, sumo games, and of course, pirates games. All of these types of games are fun on their own, when you play them yourself against the computer, but of course, they are even more fun when you play them together with four of your friends, but they can also be played with 3, or 2 of them, or simply another person. Still, we believe that the more the merrier, so you should try and bring as many friends in order to use all of the slots available, because that will make the game even better. Well, since we have told you everything that we wanted you to know regarding this category of 5 Players Games, we really hope that nothing will be standing in your way, and that you are going to begin having fun with these games immediately, like only on our website it is possible. You can spend hourse searching Google for other websites with Five Player Games, but trust us when we say that there are not that many others which have this category, and those that have it, do not have as many cool games in it as we do, so you are already in the best place, trust us on that! When you are done with this page, remember that when it comes to friv games online, you find yourself in the best place for them, so continue browsing our website, and in no time at all you will find thousands more great games to play, as you can have fun four hours at a time, every day, only here!