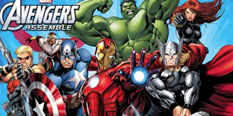 Avengers Games
💡 Play similar online games!
🤔 What are Avengers Games?
With our free Avengers Games online you can become Iron Man, Captain America, Black Panther, Spider-Man, Thor, or The Hulk, and defeat threats on Earth or in space, in adventures filled with action!
📂 Related Categories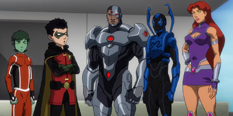 Justice League
Avengers Games
Both Marvel Comics and DC Comics have their own flagship team of superheroes that is the main force to save the Earth and the universe when it is threatened by various villains, local and even intergalactic ones. DC has the Justice League, and Marvel has The Avengers, which, we would argue, at this moment are the more popular ones, thanks to the billion-dollar franchise of the Marvel Cinematic Universe, the film series produced by Marvel Studios and Disney that has started in 2008, and which has made box-office hits as well as critical darlings with their various movies based on their most famous superheroes.

The MCU started in 2008 with the release of Iron Man, and it made waves all around the world four years later, with the release in 2012, the first movie in history to have brought together the likes of Iron Man, Captain America, Hulk, Thor, Black Widow, and Hawkeye, the first roaster of the team in the movies. Four of these heroes have had their own movies released in the years prior, with Black Widow and Hawkeye having been featured and introduced alongside those biggest heroes.

The popularity of the movies made this franchise a juggernaut in the world of film and made comic book movies mainstream, which is why the number of superheroes games online has also risen in the past few years. Children and even adults are no longer satisfied with just watching their favorite characters on the screen, but they want to become those heroes and save the world themselves, which they can do in the Marvel Games category of our website.

Of course, that ones bring together all of the heroes in the MCU and in the comic books, such as the X-Men, Guardians of the Galaxy, Inhumans, Secret Warriors, and other heroes that are not part of the same cartoons, or have only worked together with them for a short while.
The story in the Infinity Saga
Iron Man was the first superhero featured in this amazing story. He used to be a playboy millionaire who had a company that produced weapons for war, but he was one day attacked by terrorists using his own brand of weapons. He was taken hostage, and, in order to survive and escape, he built the first Iron Man suit, and with it, he got out. Upon returning to civilization, he started further developing the suit to make it better, giving him the power to shoot enemies, fly, and all sorts of other cool stunts.

Next in the story we got back in time to the second World War, where we saw the beginnings of Captain America, a skinny soldier by the name of Steve Rogers, who took a super-serum that gave him immense physical abilities, and he took the mantle of this superhero of patriotism, and together with his fellow soldiers defeated HYDRA and the Red Skull, only to be frozen underneath the sea, until he was brought back to modern times by Nick Fury and SHIELD.

Thor was the son of Odin, promised to be the next ruler of Asgard. One day, he finds out that Loki, his brother, had been adopted, and is part of a race that are the natural enemies of the Asgardians. Loki becomes hungry with power and tries to overtake Odin and Thor, only for Thor to be exiled to Earth, left without his hammer. There, he has to find a way to return, get his hammer back, all with the help of his biggest love interest, Jane Foster.

Bruce Banner was a brilliant scientist who one day got exposed to Gamma radiations, turning him into The Hulk, a huge and beastly humanoid creature with green skin, which has immense powers and can destroy anything in its path, only it is furious and it is hard to control him. Banner turns into Hulk when he is angry, and this is why the military starts hunting him down, as he is considered to be a threat by the USA.

These four heroes, together with Black Widow, who is a former Russian spy with extraordinary abilities, as well as Hawkeye, a bow and arrow-wielding hero from Shield, come together in 2012's The Avengers to save the Earth. Loki comes to Earth, acquires the Tessaract, a powerful Infinity Stone, and uses it to take over the world. He also brings along with him nasty alien creatures, but the heroes defeat them all, as well as Loki, taking the stone in their custody, and becoming the first Avengers team.
Conclusion
At the moment, there is no team of superheroes in the world as iconic as The Avengers from Marvel, who have defeated Loki and his Chitauri, Ultron, and his evil robots, Baron Zemo and his HYDRA soldiers, as well as the universal threat of the titan Thanos. Through all of these adventures, as well as new ones, you can join them by playing our Avengers Games online, where you get to become any of these heroes and save the day. If you love technology, play games with Iron Man. If you are a patriot, Captain America Games are for you. If smashing is on your brain, try our Hulk Games. Want to be a god? Try out our best Thor Games online? Become a spy with our Black Widow Games, or become a proficient archer with any of our Hawkeye Games. The possibilities are as big as the Marvel Universe, so start the fun right now!