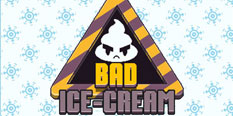 Bad Ice Cream Games
💡 Play similar online games!
Bad Ice Cream Games
Can ice cream really be bad? Well, we've never tasted bad ice cream before, and we're sure that you have neither, as it is the most beloved summer treat, which is great even in the winter. When you're feeling down, there is nothing better to pick your spirits up than opening up the fridge, picking up a bowl of delicious strawberry ice-cream, or in another flavor you like, and then chowing it down with a spoon. This delicious treat has come to life in this series of our website, which is one of the most popular series of 2 player games online out there, made by Nitrome, so of course, we would dedicate a whole page to them, making the games accessible to all those who've not yet to play them, so they don't miss out on this world of fun!

When it comes to these games with nasty ice cream, they are retro-looking games, having been inspired by classic 8-bit games on older hand-held consoles, and they have clearly been inspired by the Pac-Man series, as it involves mazes, enemies that you have to avoid, items to collect, and they get progressively harder as you go on. If you've ever thought that it would be fun playing something similar to Pac-Man, but in a different world, with a new setting, and to be able to play it in two players, then our free Bad Ice Cream Games is the series for you, having all of these elements and more, resulting in a whole lot of fun for the players.

How to play?
To start playing a game from this series, you will begin by choosing if you are going to face the winter by yourself, or you play with a second player, and unlike most of them, in this one, you are not competing with one another, but you are working together, so this is great if you were feeling the need of playing some 2 player co-op games online for free! Each player gets to pick their flavor of ice-cream, such as chocolate, vanilla, or strawberry.

Player 1 uses the four arrow keys to walk around in any of the four directions, while Player 2 moves around using the W, A, S, D keys. The two ice-cream cones have the ability to shoot blocks of ice, which can be helpful in enclosing enemies in spaces out of which they can't get out of so that they don't bother you while you explore the labyrinth. Work together so that you get rid of enemies, and always make sure to avoid them, because if they touch one of you, both of you lose!

To shoot ice with Player One you use the spacebar on the keyboard, while Player Two uses the F key to shoot the ice cubes. If, the ice blocks are in your way and you want to get rid of them, get next to them and press the same keys to blow at them and destroy them, clearing them out of your path. Fruits such as berries, bananas, apples, and others are going to be spread out through each maze, and your goal is to collect them all if you want to clear the levels.

This has to be done before the timer reaches 0 seconds, so try to be not just careful, but also fast, if you want to advance further in your adventure. While we said that this is a co-operation game, there is an element of rivalry still, because each player gets points from collecting the fruits individually, so when picking fruit there will be two score counters, one for each player. Which one of you will get the most fruit? Who knows!

Everything is lovable in this world, from the evil ice-creams to the enemy creatures roaming around, and the frozen world is vast, with each new game in the series has had countless of levels for the players to explore, and so far there have been a total of three Bad Ice Cream Games unblocked, all of which are available here for players all over the world. If you're new to the series, you are in for quite a pleasant surprise, so don't hold back on enjoying these games right away!