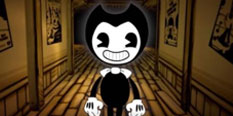 Bendy and the Ink Machine Games
💡 Play similar online games!
🤔 What are Bendy and the Ink Machine Games?
The most diverse range of online Bendy and the Ink Machine Games is going to be found right here, on our website, where we have made sure to gather the best games on the internet that are based on this video game, and after having played them and having had fun with them, we knew that they need to be here, for you right now to play as well! Come on, wait no more, and do it right now!
📂 Related Categories

Poppy Playtime
Bendy and the Ink Machine Games
Welcome all to yet another wonderfu new category of games from our website, this time the one called Bendy and the Ink Machine Games, which is going to be fantastic, just like we are proud to say that the previous ones have been, as we always make sure to only bring you games of the highest quality, meaning at the same time we create categories of the highest quality, in which you are always having fun, and if you are having fun, we are going to continue making these categories and filling them up with games. As you know, most of the categories that we have on our website are ones that are based on television shows or movies for children, weather animated or live-action, but we want our website to be as diverse as possible, which is why we are always looking in other directions as well, in order to find great games to share with you on our website. Well, this time we have looked towards the world of video games, as recently we have noticed that there are lots of fan-made html5 games or flash games made that are inspired by video games, and that they are all great as well, which is really evident in this category of Bendy and the Ink Machine Games, which are games based on the series of episodic survival horror games with the same name, which we are sure that many of you have played already. It only stands to reason, we most probably the main reason that you are now on this page is because you have played that one, and you were looking to play some Bendy and the Ink Machine Games online as well, and then discovered that our website has such games, and not just any, but the best of them. Well, if that is the case, then you should not hold back even for one second, but you should actually start playing the games on this page at once, and have fun with them just like we have had before adding them here. On the other hand, if you have never heard about this series of games before, but would like to learn more about it before you actually start the games here, then worry not, because you can learn all there is to it by reading this description to the end, where all of the information you require will be found, and you are going to certainly become more interested in giving the games a chance, if you have not already. First of all, we are going to tell you what the story of the original game is, as we think that is a fitting starting point. Henry is a retired cartoonist, who one day returns to an old studio where he used to work, having been invited by a former co-worker. There, together with his old friend, they discover all sorts of mysteries and secrets about the abandoned place, all the while being haunted by Bendy, who is a character that resembles the company's most popular one, with Bendy being a creature made of ink, and quite a scary one in the dark. The game has been praised not only for it's gameplay, which is easy and exciting at the same time, but also for the designs of the character and the artwork of the game, which is really interesting for a horror game, as it is more cartoonish, fitting in with the themes of the game and the setting and story of it. We are not surprised at all that it has become such a hit, and that so many online Bendy and the Ink Machine Games were created after it, games we are very proud to share with you. What games are we talking about? Well, you are going to find this category quite a diverse one, as you will find in it mahjong games, coloring games, tetris games, bubble games, memory games, skill games, and more, so that you are not going to get bored here even for a second, something we know from our own experience of playing these games already! Well, now that we have told you all of these things about the category, there should be nothing holding you back from starting to play Bendy and the Ink Machine Games right now, and having fun like it is possible to have fun only here, where daily we bring you the best new games on the internet. Precisely for that reason, we hope you will invite your friends here as well, and together you visit our website daily, as not to miss out on any of the great games we have for you, which make GamesZap.com the best website on the internet with online games!