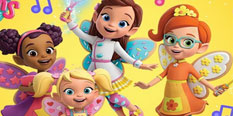 Butterbeans Cafe Games
🤔 What are Butterbeans Cafe Games?
Welcome everyone to the Butterbeans Cafe Games category, a category of Nick Jr Game which we invite you to check out right now, since in it you will be able to find some of the best new games for children we have added here, and it is not worth missing out on them, trust us!
Butterbeans Cafe Games
On Friv Games Today you have always got the chance of finding the best new games and categories first, before any other website, which is why we are tremendously excited that right now you are on the Butterbean's Cafe Games page, which is only the newest category of Nick Jr Games created for our website, where you should get yourself ready for a really awesome time, especially since there are no other friv games websites that currently offer these games for grabs! When it comes to animated series for preschool children, we have found those that air on Nick Jr to be some of the most awesome ones, so we were very excited upon discovering Butterbean's Cafe, since it looks good, has interesting characters and story, and new shows tend to have a lot of potentials, and there is a lot of interest in them from kids, who always want to know what is the new thing to be hyped about! Well, it is certainly this show, and it is for sure the fact that you can play friv Butterbeans Cafe Games on our website for free, as we have been the first website to create this page for you all. We are sure that among the new shows that start airing in 2019, this will be one of the most beloved ones, and this will mean that new games based on it are going to appear quite often, and you can rest assured that we will be the first website to share them with you, as it is always the case. Now, if you are already fans of this show, we are sure that nothing is going to hold you back from playing these Butterbeans Cafe Games at once, and you should do so! For the rest of you, if you are curious to learn what this show is all about before you give the games a chance, we recommend reading this article to the end, because in it you are about to learn about the show's premise, characters, and, of course, you will also get to see what kinds of Butterbeans Cafe Games you can expect to find on this page, and we are sure that reading this article fully is going to determine you to start having fun with these games at once, like only here is possible! A magical place known as Puddlebrook is the setting of the show, and the title character it follows is none other than a cute girl named Butterbean, who is not just a girl, but a fairy at the same time and she decides to start and work in her own cafe, where she is helped by other lovely characters such as her sister, Cricket, and some of her friends, including Poppy, Dazzle, and Jasper. While most of the characters in the show are friendly and nice, there is also an antagonist called Ms. Marmalady, who lives next door, and in each episode tries to plot to put Butterbean out of business, only to fail every time she tries. The show teaches you of friendship, hard work, having fun, and all sorts of other important lessons and Butterbean always is a wonderful model to the girls that look up to her and her life! Now it is time for us to tell you about the Butterbeans Cafe Games that you will be able to find on our website, and because we have created this page after its first game has been released, so far we can only tell you about it, a game called Word Train, which teaches kids how to spell different words, which we believe is something important, since spelling is something that all people must learn to do from a young age! As for other games, we are sure that they will follow, and they will be of all kinds, such as coloring games, puzzle games, memory games, adventure games, and more, so everyone will be able to find something they enjoy on this page! Well, since we have now told you all we wanted you to know regarding this page, nothing should be holding you back from starting to play and have fun with our Butterbeans Cafe Games as soon as possible, and, who knows, maybe after playing these games you will also check out other games of our website, since we have a feeling you are going to love them a lot as well, because all of our games are top-notch!