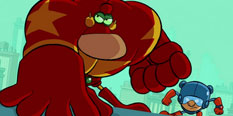 Captain Biceps Games
🤔 What are Captain Biceps Games?
It is only on www.GamesZap.com that you will be able to find the best collection of Captain Biceps Games, games we certainly recommend, and with which there is no way you will not be having fun, considering how popular Super Heroes Games are at this time. Check them out immediately, and surely you will not be in the least disappointed!
Captain Biceps Games
You are all right now welcomed to the Captain Biceps Games category, one of the newest categories of games aimed primarily at younger children from our website, in which we have no doubt at all that you are going to find lots and lots of games you like, and with which you are going to have lots of fun with, just like we can say we did, because if we had not have had a wonderful time playing them, you can be sure that we would never even have thought about sharing them with you, as we only bring to our website games that we know are fun and well-made, since we want our website to be the standard when it comes to quality games on the internet, and so far, we have no doubt at all that we have been! We have also seen that there are not that many other websites that offer Captain Biceps Games, which is quite a shame, although quite understandable. Why? Well, simply because this is a show that comes from France, and it has not been aired that much on channels that are in English, so it does not have such a big international following like so many other cartoons do. Still, we are sure that the fans of this show that are from France are going to be very happy that there is now a website that has these games, and not only that, but those who are not from France are encouraged to try out these games, and discover a new world, which is something possible to do only here, the best website for online games, no doubt at all! If you are already fans of this show, nothing is going to hold you back from starting to play our Captain Biceps Games at once, but if by any chance you have no idea what you are getting into, and that makes you worry, stop it! Why? Well, because in the next part of the description, just like we usually do, we are going to tell you what and who the show is about, so that when you start the games, you are not going to have any stress at all, and enjoy them even more so! Captain Biceps is the main character of the show, who, obviously, is a super hero. He is a super hero that is very strong, just like his name suggests, but at the same time, he is quite unnintelligent. For that aspect, at least he has his trusty sidekick, Genius, and together the two work very hard in order to save Capitaleville from any villains and disaster that are threatening it and it's people. While Biceps likes to do things unhinged, with no plan at all, Genius is the type to plan everything out, and if one of them has something that they lack, the other one compensates, which is why their missions never fail, and they always save the day, one way or another! Quite, interesting, right? Well, we are sure that with what we have already said we have made you curious about playing Captain Biceps Games, but let us now tell you about the three games of the series, and make you even more pumped up about playing them! Well, you are going to have action games, skill games, or memory games here, all of which really fun and interesting. Since they are all in French, we recommend that before you start them, you read the description underneath, in order to learn what it is you have to do in the game, after which you should be able to do a terrific job, and thus have lots of fun, even more! When you are done with these games, and do not know what else to do, make sure to remember that Captain Biceps Games is only one of hundreds of categories, as we have plenty more for you to visit, all stacked with amazing games, so if you keep browsing, we have no doubt at all that you are going to find something you like in an instant, and continue having a great time on our website. We hope that you are also going to come back to our website daily, since that is the only way that you can be on top of the situation, and always be the first one among your friends to play the latest games on the internet, and if we are talking about friends, we hope that you will be inviting them here as well, so that they do not feel left out of the fun even for a second! We wish you all good luck in playing Captain Biceps Games, and hope to see you back on our website as often as possible!