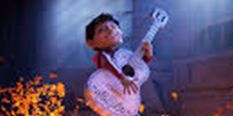 Coco Games
🤔 What are Coco Games?
In the Coco Games category on our website you can find some really awesome Disney Games to play, so why not start playing them right now! Disney Coco Games like the one here you will probably not be able to find anywhere else, so give them a shot right now, and have a great time, like we think you have with all of our games!
Coco Games
Coco Games is the newest category of Disney Games created for GamesZap.com, where we know so many children come in order to find games with their favorite characters, whether they are from television series, or from animated movies, like it is the case with this category, which has been created for the upcoming Disney animated motion picture, Coco, which is set to run in cinemas starting with November of this year, so by that time, we want to be already prepared with as many Disney Coco Games as possible, since we are sure that many children will want to play such games, and we are sure that the first place they will come to get them will be our website, since we have been the first website to create the category, and bring people new Coco Games, proving once again that the best place to look for the newest games on the internet, and also find them and be able to play for free is our website! We think the category is going to be a big hit, because that is usually the case when it comes to categories made for Disney movies, since they tend to remain popular even years after it ran, just look at Frozen. That means that we might find games with Coco on the internet even years later, and we really hope that this is going to be the case, since from the short preview of the movie we have seen, from the press statements, and the different pictures available on the internet, it will be something new, and definitely something amazing, so we really have high hopes for this film, just like we have high hopes for all the amazing Coco Games we are going to offer you all through the years! One of the reasons for that is the fact that this film is based on an original idea, which is awesome, especially when Disney have been really focused on animated pictures based on alread-estabilished stories, like their princesses movies, so whenever they get to make something new and never-before seen, it is exciting. Plus, the animation for this movie looks neat, and it has a setting which has not really been explored in animation before, so it is bound to sweep children away! Well, why don't we get more specific then? We are now going to go into detail about the story of the film, it's characters and it's setting, which we really hope is going to be information that convinces you to try out our Coco Games, games about which we are also going to tell you about after that, so keep on reading, and you will surely begin to love this new world! Miguel is a 12-year old boy who lives in a family which for years has had a ban on music, which is ironic, because his dream is to become a really big musician, just like his idol, a musician by the name of Ernesto de la Cruz. Trying to prove his talent, Miguel somehow manages to enter the Land of the Dead, which is a really interesting and surreal place we are going to see in the movies, stemming from Mexican traditions and mithology, and we are sure that audieces have never been acquainted with this world before. There he meets Hector, a charming trickster who wants Miguel's help in order to get to the Land of the Living, and together they start going on an incredible journey in the Land of the Dead, where they unlock the mystery and the real story behind Miguel's family, and why they have a ban on music. As you can see, the story seems to be really unique, interesting, and the movie is definitely also be a real visual treat so we have high expectations for it! As for what Coco Games you will be able to play on our website, the first one you get to play is a jigsaw puzzle game, and we are sure that many more puzzle games will follow, and something tells us that other formats like coloring games, memory games, skill games, hidden objects games, and others will be present here as well, but they will probably start appearing on the internet before the release of the movie. Hopefully, the movie becomes popular, and you will get to find and play even more after the movie is done. That is all we had to tell you about these Coco Games Disney, so we can only invite you to start playing them all right away, and we really hope that you will have a great time doing so! Do not forget to also try out other games from our website, since we have countless of categories filled with fantastic games, which are definitely worth your time!