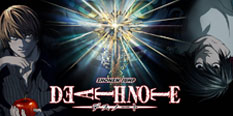 Death Note Games
🤔 What are Death Note Games?
Death Note is one of the world's biggest anime and manga series, and now you can enter this new universe by playing Death Note Games online for free only on GamesZap!
Death Note Games
It was 2003 when Weekly Shonen Jump, which is the biggest magazine for the manga, Japan's version of comic books, started serializing Death Note, a manga series written by Tsugumi Ohba and illustrated by Takeshi Obata, with the manga having been serialized for three years. After the end of the critically-acclaimed and best-selling series, MadHouse, one of the best animation studios in Japan started airing an anime adaptation of the series, which went on to make the series even bigger.

The show for one year, having a total of 37 episodes, and it was also shipped internationally, where it became a huge hit. We think that one of the main reasons it did so well was because, while it did have a few supernatural elements, the show was a thriller and action series at its core, and it had a lot of elements that are still grounded in reality, and it asked a lot of universal questions about justice and power.

To this day, it is one of the world's most popular anime series, and probably a gateway series for many people who get into anime series. Since almost everyone has heard of Death Note, it was not a surprise at all that we have found so many Death Note Games online as well, and thus our team has decided to create a page dedicated towards them, so you can finally have a place where you can play games based on this anime and manga you probably love a lot!
The story and characters of Death Note
Death Note follows Light Yagami, a top student in Japan, who, one day, finds a notebook called Death Note. It is written in it that the note allows you to write the name of any person in the world, whose face you are aware of, and they will die in a few seconds after you did it. Curious, Light experiments with the Death Note and finds out that its abilities are real, which is when Ryuk is revealed to him.

Ryuk is a Shinigami, which means a Death God, which are supernatural beings that use the note to kill people. They usually use it to kill people only when they are meant to, and they live in the underworld, of which Ryuk has gotten really bored. That is why he came to Earth and dropped the Death Note for Light to find it.

Instead of becoming scared of the prospect of using the Death Note, and of the Death God before him, Light instead becomes enthusiastic about the prospect of becoming a god, so he starts using the note to kill criminals all over the world, starting with Japan, and Ryuk stays along for the fun and to see what happens. Oh, and, for the apples too, since he loves eating apples.

Soon enough, the people start recognizing the work of Light, and it is clear that someone has the power to kill all these criminals, which is why people create the story of Kira, the one who is bringing justice among the sinners of the world. The Japanese authorities also catch on, and at the head of the task force investigating Kira is Light's father, Soichiro Yagami.

When the authorities get overwhelmed, the antagonist of Light comes into play, and we're talking about L. L is one of the world's best detectives. No one knows his real name, he stays hunched in his chair most of the time, loves eating candy, and is really pale. Despite how quirky he is, he quickly figures out what part of the country Kira lives in, and becomes the head of the task force.

L quickly starts to suspect Light of being the killer, as he infiltrates into his school, and eventually brings Light into the task force in order to observe him closely. Light is aware of this new threat, and so starts a cat-and-mouse chase between the two. Will L reveal Light as Kira first, or will Light find his real name and kill him before that can happen?

Other important characters in the series are Misa Amane, a Japanese idol who also has the power of the Death Note, granted by another shinigami, and who idolizes Light, becoming his trusted sidekick. There are also Mello and Near, who are foster brothers of L's, and who are also quirky and intelligent detectives on their own. Touta Matsuda is another important character, as he is the youngest member in the task forced, and represents the viewers.
Death Note in other media:
In addition to the multiple live-action movies that have adapted the main story as well as given us a few spin-offs, fans of the franchise were also very interested in taking part directly in the world of Death Note, which is why there have been several Nintendo DS Games based around the franchise, and we now want to tell you about them, before we tell you about the Death Note Games online you will play right on this page!

Death Note Kira Game is the first such game in the series, which is a detective game where players can become either Kira or L, and they will try to unmask the other one and get rid of them. You do this through investigation, as you discuss with other characters about cases and clues that you have, then there is the voting stage, where the characters vote on who they think is Kira or L depending on the performance of the player, and the L/Kira stage, where you focus on just one character as the suspect.

A sequel called Death Note: Successors to L was released in 2007, which continues the story of the manga after the demise of L, and the third game, called L the Prologue to Death Note -Spiraling Trap-, has the player becoming a newbie FBI agent, who wakes up trapped in a hotel and has to escape while being helped out by L through remote control assistance.
The best Death Note Games online to play
Firstly, you should know that you are going to be able to play two of the NDS games we talked about earlier right on our website, all for free, so don't hesitate to check them out, and then you can play more simple games such as the Death Not Type game, which is all about how fast you can type the names of the people you want to kill with the note, or the simply-called Death Note game, where you will go through the story of the game in an RPG point-and-click adventure-style game!

If you want to go through the story once more in the style of visual novels, which are games that combine text and images to layout a story, you can play Death Note visual, which is precisely that, and we are sure that you will love this story once more, even in this new medium.
FAQ
Is Death Note safe for kids?
While the manga was originally published in a magazine aimed at teenagers, it has quite the brutal moments and deaths, and it can provide quite the shock factor, so maybe ask your parents first before watching the show or playing the games.
Are Death Note Games unblocked?
Just like with any other category on our website, the games here are available to be accessed by any computer, so you can play them wherever you are!
Is playing Death Note Games scary?
We don't think that playing Death Note games online on our website is a horror experience, but it can get scary at times, so if you are into this kind of game, make sure to check them out!
Are Death Note Games online free?
All the games with Death note you find on our website are free to play wherever you are, so make sure to check them out right now!
Conclusion
Death Note is and will remain one of the classic works of manga and anime, and it is being discovered year after year by new audiences, and if those audiences wanted a place to play Death Note Games online for free, they finally have it, here on GamesZap, where you can live the thrilling cat-and-mouse chase between Light and L, a man who kills people with a magical notepad, and a man who will do anything it takes to uncover him and stop his brand of justice!