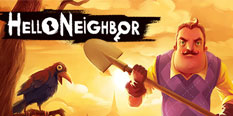 Hello Neighbor Games
💡 Play similar online games!
🤔 What are Hello Neighbor Games?
Come right now and play Hello Neighbor Games, which is a category of games we are quite positive that you will not find on many other websites like ours, because only here you are able to find some of the most unique and fun games on the internet, which is what we are proving to everyone day by day!
📂 Related Categories

Poppy Playtime
Hello Neighbor Games
Welcome all to Hello Neighbor Games, which is yet another brand new category of games for which we are very excited to have on our website, since we are always happy to present to you new and interesting games to play, especially if we are talking about series of games that you cannot find on many other websites, which is something that definitely applies to this particular new series, a series of Hello Neighbor Games online, which we are sure that some of you mut have been looking and searching for, and now you finally have a place where you can play such games, and with it, we are proving once again why it is our website that you should be visiting daily, if you want to be up to date with all of the best new releases when it comes to online gaming. Now, as you know already if you have been visiting our website for a while now, you know what we are always trying to create interesting and diverse categories, which is why we look towards different mediums in order to find games to bring you. Most often we have online games that are based upon animated or live action television shows and movies for children, but sometimes we also look towards books, video games of all kinds, toys, and plenty more. Of course, if you are familiar with this world, then you already know that these online Hello Neighbor Games are based upon the video games with the same name, which are a series of horror survival stealth game, which has become really popular because of many reasons, including the gameplay, the world that it has built, as well as the animation and story, so we are not at all surprised that they became popular. Like it is usually the case with such proprieties, it was only a matter of time until html5 or flash games based upon the video game would be released online, and we have found the best of them, so now you can find them easier than ever on our website, where you get to play the best free online Hello Neighbor Games. Now, in case you have never heard about this game before, and would like to know more about it before you start playing these games, then we happily invite you to read this description to the end, from which you are going to now find what the games are about, and who are it's main characters, and maybe even what kinds of online games you will be playing. Well, the goal of the game is to go in secret and infilitrate the house of your neighbor, who is hiding a secret there, and you will uncover it. Of course, the neighbor is not the friendliest ever, and dar secrets lurk all around here, so while getting inside the house unnoticed will prove to be quite hard, it will be even more difficult for you to escape it, since the neighbor might catch you. This is an interactive game, meaning you use the mouse to look around, solve puzzles, find clues, and determine the course of action for your character in-game, so that you bring the story to a happy resolution. As for the online games that are based upon the video one and that you are going to find and play for free on our website, they are going to take away the things that you loved about the game and have them, so you will probably have to play different levels from it, now in another form. Of course, you might also find puzzle games, quiz games, and other more simple types of games, so we believe that this category is going to prove itself quite diverse. Now, since everything that we wanted you to know about it has been said, there is nothing left for you to do right now but to start playing the games and having fun at once, like you get to do only on GamesZap.com, where fun never stops, because we never stop bringing you the best new games on the internet! Remember to invite all of your friends over as well, in order for our family to grow, but also because the more people here, the more fun the place, and not only that, but they might not know a website that is so rich in amazing online games as is ours, and would be thrilled to discover this huge world of fun. In addition to Hello Neighbor Games, remember that we have thousands of other games on our website, which we invite you to try out when you are done with these, so that you continue having fun on our website, which is something that we want from everyone who visits us!