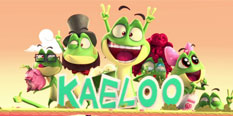 Kaeloo Games
🤔 What are Kaeloo Games?
Welcome everyone to Kaeloo Games, which is a fantastic category of games we highly recommend to you all, as we have added quite a few awesome games in it so far, all of them recommended, with which we have no doubt at all you will be having a fantastic time, just like you usually do with the many great games we share with you here!
Kaeloo Games
We want to welcome you all right now to the Kaeloo Games category, which is a brand new category of Teletoon Games, as this series of games is based upon an animated series with the same name, which has been aired in Canada, primarily in French, although it's first season has also been dubbed in English. Still, the show is aimed primarily towards French children, and it has been airing in countries where this language is spoken. Well, the language of our website is definitely fun online games, so when we discovered these Kaeloo Games and had so much fun with them, we knew that it was worth it for us to create this category, and that all of you who are going to check out these games are also going to have a wonderful time. We want to make our website as global as possible, which is why in recent times you have seen us creating many interesting categories that are based upon shows that are from many countries around the world, and so far the results have only been better, with more people coming here to enjoy games, and to also find games with series from other parts of the world, making the experience on our website a more rich one, and certainly more satisfying. Also, since we have fun games with the games that we provide, the chances that you will not are very slim, and we are sure that great games is one of the main reasons that you keep coming back to our website as often as you do. Now, if you are from a country that airs this show, then the chances are very high that you have come here specifically because you were looking for these games, so you are not going to waste no time at all, but start playing them at once. Of course, then there are chances that you might have come here by mistake or pushed by curiosity, and that is fine as well, as even if you do not know anything about this world you can jump into playing the games and having a wonderful time. Of course, each game has a descriptio, which is in English, so if you read it, there are no chances that you are not going to know what to do in the game, so that you enjoy it more and win it with ease. Now, in case you are more of the curious type, and would like to learn more about the series and it's characters, before you get into the world of these Kaeloo Games, then worry not, as you can learn right here and now, as we are going to tell you all about these things in the next part of this description! Kaeloo is the main character after which the show is named, and she is a curious frog, who wants to know things about the world around her, and is always looking for adventures. She is always ready for adventures with her buddies, and she can sometimes be provoked into a rage which transforms her into Bad Kaeloo, where she has a bigger and scarier form. Her friends are all animals as well, each with their own unique characteristics and personalities, and together they form quite a group, which is always great to see on the screen. Interesting, right? Well, it is not only awesome to watch these characters, but it is even more awesome to actually interact with them directly, which you get to do by playing Kaeloo Games on our website, games which are quite diverse and interesting, and which you will definitely check out. You are going to be able to find skill games, adventure games, thinking games, and more types, all of them interesting, and not only fun, but at the same time they develop the children that play them in all sorts of ways, so that you are not only having fun, but at the same time you learn things, and have all-around fun, which is something we hope to accomplish with all games on our website. Now that we have told you all of these things regarding the Kaeloo Games category, we really hope that there is not going to be anything that will hold you back from trying them, but instead start them at once. Do not forget about telling your friends about our Kaeloo Games as well, and of course, we invite you to check out our website, which has thousands of games, each more interesting and more fun than the other, as we want you to miss out on none of the, so that you do not miss on the fun they provide. Come back daily, so that you are up to date with the newest games on the internet, which are always added here first!