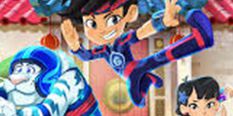 Kody Kapow Games
💡 Play similar online games!
🤔 What are Kody Kapow Games?
Only here you will be able to find and play the best Kody Kapow Games, so what is there to wait for? You can see them all down below, one game more fun than the other, so whether or not you have played Kody Kapow Games, give them a shot right now, and enjoy your time on our website, like you do with all of our games as well!
📂 Related Categories
Kody Kapow Games
It is only here that you can find the most amazing Kody Kapow Games on the internet, since it is our website that has created this category of Sprout Games first, proving once again why our website should be the first one that you visit every day, since it is only here that you can know for sure that you are up to date with all the best new games that appear on the internet! We are always watching the world of television animation especially, because that is where most of our content comes from, and Sprout is a new network for preschool children in particular which continues to amaze us with all of their brilliant new shows all of the time, in addition to the fact that the games that are based on their shows are usually really fun to play. So, of course, as soon as we had heard about the premiere of the new Kody Kapow show on the network, we searched the internet for Kody Kapow Games, saw that nobody offered such a category, so we did some work and created it ourselves, so now, any fans that this show will gain after it begins airing, will be able to search the internet for Kody Kapow Games, and find them and play them as well. As you can clearly see from the way that we are writing this description, we are very excited for this category, with one of the main reasons for that being that despite the show being almost a month away from the premiere date, we have already found some online Kody Kapow Games available, one game more specifically, which is called Kody Kopaw Training, where you are going to be training in the martial arts together with Kody, an opportunity which you should not miss out on, since we have played the game beforehand, so we know for a fact that you can have a really great time playing it, which is what we always offer to the visitors of our website! Now, like we have said, when we have written this description, we were one month away from the premiere of the show, so many of the children reading it between that time, probably have no idea about the show, so we are now going to tell you what the show is about, and who are the characters in it, and with this information we are hopeful that if you have not seen the show before, you will be convinced to start playing Kody Kapow Games, because we are sure that those who have been watching the show already need absolutely no convincing! Kody wants to become a martial arts super hero, and is spending his summer vacation with his family in China, a great oportunity to train in the martial arts, don't you think? He is lucky, because his grandfather is a martial arts master, who teaches him not only how to fight, but how to be peaceful and patient. Kody then joins his super spy cousin Mei and their tiger friend Stripes, and using the lessons he was taught by his grandfather, the trio go around their village, where they have all sorts of adventures daily. These adventures do not only test what Kody has learned, but also help him train, learn a lot more things, and become a better person, just like we are sure that the children who watch the show will end up being after each episode! Doesn't the premise sound really interesting to you? We are sure it does, just like we are sure that in no time at all this will become one of the best shows on Sprout, or Universal Kids as the network will be called from fall, because the channel is going to rebrand, to include a block of 15 hours called Sprout, aimed for younger children, and after 6pm having shows oriented more for older children. One thing you can rest assured, as long as the show is on the air, and even after it finishes, whenever there are going to be new Kody Kapow Games on the internet, our administrative team will make sure to bring you all the games available based on the show, and continue to make each new day spend on our website a great one, filled with some of the best online games on the internet! For us, that was all that we had to tell you about this category of Kody Kapow Games, meaning it is now up to you to tell all of your friends of the category, and that they can find and play these awesome games only on GamesZap.com, where they are going to have countless fun, not only with these games, but with the many others that we have available, on this website where you can never get bored!