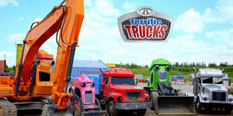 Terrific Trucks Games
💡 Play similar online games!
🤔 What are Terrific Trucks Games?
Welcome right now to the Terrific Trucks Games category, which is a category of which we are very proud of, as it has lots of great games for you to try, and which if you are going to give a chance to, you are going to have a tremendous time playing them, just like we are happy to say we have had, as that was the main reason why we are sharing them with you all right now!
Terrific Trucks Games
Welcome everyone to the Terrific Trucks Games category from GamesZap.com, which is one of the newest categories of Universal Kids Games we have here, which we have really enjoyed, as we have played all of the games from it before having added the games to our website, and the fact that we have had so much fun playing it is what convinced us that this is a category that needs to exist on our website as well, because it is only fair that as many children from all over the world get to find and play these games for free. That is possible here, since our website has always been a global one, as we bring our visitors games from multiple places in the world, although our main interests are the games that are based airing in the United States, and any other place in the world where English is spoken. Still, there are places in the world where american shows are not airing, or not all of them, which is why categories such as Terrific Trucks Games might represent something new for people all around the world, as they might not have this show in their country. Well, they will definitely be glad to find these games on our website, which we are sure that they are going to enjoy even without having seen the show, which is how some of our members in the administrative team have played the games, and they have said they really enjoyed playing these games, even though they had no idea what they were getting into. Well, don't you trust us when we say that these games are worth it? Well, you should, because we make a point to never lie here. Of course, you might want to know more before you decide weather you want to play Terrific Trucks Games or not. If that is the case, all you need to do is read this description to the end, where in it we are going to now tell you what the show is about, give you some details about the main characters in it, and then we are going to tell you what kinds of online Terrific Trucks Games you will find and play for free here, and we are positive that you are going to be satisfied with what you find, just like you are always with the games we make sure to provide you. The show focuses on the daily adventures of five friends, who, as you have probably realized already, are trucks. They are not simple trucks though, as they are trucks that speak, think, and act a lot like human children. In each episode we see a certain adventure of theirs, where they learn about their purpose and their abilities, as each truck has a different task that they are better at solving. Of course, if a child watches this show, he will also learn all sorts of things about life, how to deal with problems, solve them, and all sort of other important lessons. A dump truck, a front-end loader, a digger, a semi and a mini front-end loader are the types of trucks that these friends are, and they are called Blinker, Dug, Tork, Sparkly, and Stotz. Quite interesting, right? This show will teach you that despite differences, you can work together, and to never give up, no matter how hard the situation looks like. Now that we have told you what this world is about, we are sure that you are also curious to learn what kinds of free Terrific Trucks Games you will be able to play here. Well, the category is quite large, considering the show is quite a new one, and the games are also diverse, so it is guaranteed you will find something you like here. The games are called as follows: Build a Terrific Truck, Dirt Dirby, Terrific Team Match Up, Job Site Dash, Home Base Maze, Bill Board's Memory Match. We recommend each and every game from this page, and we invite you to keep visiting us daily, because only here you can be sure that you are going to find the latest games with these characters, as we have made a habbit of always being the first website to share the latest games on the internet with fans of them. Well, we have told you everything that we wanted you to know regarding this category of Terrific Trucks Games, so all that you have left to do is to play them, and have fun! We are also inviting you to tell all of your friends about our website, so they do not miss out on the fun that is taking place each day here, as well as reminding you of the thousands of other great games that you can play when you are done with those on this page!