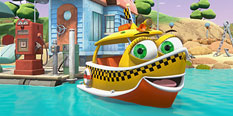 Sydney Sailboat Games
💡 Play similar online games!
🤔 What are Sydney Sailboat Games?
We are now inviting you all over to the Sydney Sailboat Games category, on the page of which you find yourself right now, and where you are about to have a great time playing some cool games, which we have worked hard towards bringing them over, as we want you to have the best content available on our website!
📂 Related Categories
Sydney Sailboat Games
You now find yourself on the page of the Sydney Sailboat Games category, which is a brand new category of games we are very happy to have created for our website, since we have noticed that there are not that many other websites that at this moment offer to their visitors Sydney Sailboat Games, and you know very well if you have been visiting us for a while, that if there are series out there that do not have places for games based on them, we especially want to create one, since we want our website to keep being one of the most diverse ones out there, with a variety of content that pleases children from all over the world. We have had such great content for a long while now, which is why we believe that so many of you keep coming back to our website, because if you were not satisfied with what we were offering, we are sure that you would not have been interested. Now, we realize that Sydney Sailboat is an animated series that is not known so much around the world, since it is currently not airing in that many countries, but we are sure that the children who watch them there really want to play games with their favorite characters. Not just that, but we can guarantee you that these games are worth playing even if you have never before heard about this show, since some of our staff members played them like that, and still have a really enjoyable time with them from start to finish. There is really no fun if you do not try something new once in a while, trust us on that! Now, this next part of the description is going to provide you with details on what the show is about, who are the main characters we follow in it, and finally we are going to tell you what kinds of online Sydney Sailboat Games you will be able to find and play on this page, and we are positive that after reading all of these things, the first thing that you will be doing is giving these games a chance immediately, and having a blast with them! The show is set in a place called Bubble Bath Bay, which is a bay where there are lots of boats and other marine vehicles docked. Of course, like you probably realized already, these are boats that act and thinks and behave much like humans, as it is easier for the children watching the show to interact and relate to these characaters. The show follows Sydney, a sailboat, who hangs around with his friends on the harbour, where he learns how to sail the seas, goes on countless adventures, and learns a lot of valuable lessons that children should also be learning from him as well. Sydney is always the first one ready for an adventure, and while sometimes in his journeys there are obstacles and problems that show up, he has help, from friends such as Terry the Tugboat, Zip, Byan, Toots, and more. With an interesting premise, a colorful cast of characters, and lots of awesome episodes, there is nothing that you will not be liking about this show, for sure! Now that the premise of the show has been said, and you know who are the characters in it, it is time for you to learn what you will be doing with them, as it is time for us to tell you what kinds of Sydney Sailboat Games online you will be able to find and play for free on this page. So far, you are going to be able to find and play three awesome games: Build a Boat, Matching Pairs, Rhythm Game. Well, so, you are going to have boat building games, memory games, and even music games, so we are sure that you will have something to your tastes here, and not regret giving this category a chance! Of course, we really hope that in the future there will be more games with these characters that are going to appear on the internet, and you can be sure that when they do, our website is going to be the first one to share them, always proving why our website should be your go-to place for the best online games on the internet! Now that everything we wanted you to know about this category of Sydney Sailboat Games has been said, nothing should be holding you back from starting to play the games right away, and having a tremendous time! When you are done, remember that there are many other categories on our website, and thousands of games available, so keep browsing, and in no time at all you will find something you like, and continue having fun!