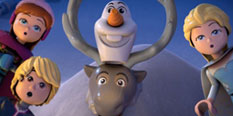 Lego Frozen Northen Lights Games
💡 Play similar online games!
🤔 What are Lego Frozen Northen Lights Games?
Frozen fans and Lego fans rejoice, because you can now play Lego Frozen Northen Lights Games on our website, a category created for the series with the same name, which depicts your favorite characters from Frozen, in Lego form, going on a thrilling adventure. You can't be dissapointed by the Lego Frozen Northen Lights Games here, so try them all right now, and see for yourself how great they are!
📂 Related Categories

Lego
Lego Frozen Northen Lights Games
One of the categories on our website that we are most excited for, and which we have high expectations of is certainly the Lego Frozen Northen Lights Games category, where you now have the chance to rediscover the wonderful world of the 2013 film Frozen, this time, in a brand new way, as The Lego Company, together with Disney are teaming up for Lego Frozen Northen Lights, which is going to be a series of animated shorts in the Frozen Northen Nights franchise that these two are developing together. When these shorts are going to be aired or distributed online, we are sure that they are going to be watched by a huge number of children, as Frozen is still really popular, even three years after the film was released. Since then, the franchise has only gotten bigger and bigger, and there are more and more Frozen Games available each day. Well, the fact that this category is also a Lego Games one is a really exciting fact, as Lego never dissapoints, whether we talk about their lego sets, or their animated shows, like this one, shows which always turn out to be highly popular. Well, we expect the same from this one, meaning that all thoes countless children who watch the episodes will want to play Lego Frozen Northen Lights Games, and luckily for them, they can do that right now and right here, only on GamesZap.com! Well, so far, there have not been to many things known about the series, but a novelization of the episodes has been released, so we can tell you the main plot of the show, which we think will be more than enough, since we are pretty sure that you are already familiar with the characters. Anna, Elsa, Olaf, Kristoff and Sven return in an epic adventure in Arandelle, and this time they are joined by a new character called Little Rock. Their missions? To do their best in order to restore the glimmer of the Northen Lights, which is said to be the most wonderful natural phenomenon in the whole kingdom of Arandelle. In the show, you are going to see an epic adventure, laugh at your favorite characters in some of the best comic situations ever, and you are going to fall in love with these Disney characters once again. Now, after you watch the show, or even before that, we are sure that you want to play Lego Frozen Northen Lights Games, which is exactly what the purpose of this page is, and we are happy and proud to say that only on our website do you have the chance to find and play the most awesome games based on this show! Whether they are adventure games, puzzle games, coloring games, or others, try them all out, and we guarantee you a lot of fun! Share this page with your friends, so that they will also know from where to get the best Lego Frozen Northen Lights Games on the internet, and have a great time everyone!