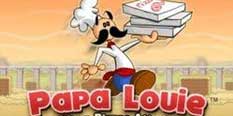 Papa Louie Games
🤔 What are Papa Louie Games?
All of the best Papa Louie Games on the internet have been gathered in this place, so browse this page right now, pick a game to play, and let the fun begin! You will surely enjoy any game you choose from this page, and we will make sure to keep it updated, for all the fans of this series!
Papa Louie Games
Papa Louie Games, or simply Papa Games is one of the best categories of cooking games, serving games, or restaurant managing games, with the games in this series being all of these things, and the fact that these games managed to combine these things together in games of such quality is what made this one very popular franchise of online games, games we are very happy to be finally able to provide you all with, along with the many other amazing games that we already had on our website. Of course, like we do with all of the categories we create, we also made sure that we have gathered all of the Papa Louie Games on this page, so, if you were thinking about playing all of these games, you need to look no further, as you can do that right here, on this page, for free, of course, like all of the games we provide are! The games have been developed by Filipine Studios, and ever since the first one in the series, the games have been extremely well received, not only by the children playing them online, but also by the critics, as their games have won numerous awards. Isn't it really great that we can now also share these games with you? Of course it is, but the most important thing remains for you to play them! If that was your purpose for coming to this page, then you should waste no time at all, but start playing the games immediately, because letting them wait for you is not the smart thing to do. On the other hand, if you came to the Papa Louie Games page without knowing anything about this series before entering the page, you might need some more convincing, which is why we invite you to keep reading this description, since from it you are going to be able to learn all of the information that you require. We are going to start right now, so pay attention, and surely, when you reach the end, you will want to play Papa Louie Games immediately! Well, we do not usually do this, but this time we are going to start by telling you what games are going to be found in this category, by title: Papa's Sushiria, Papa's Bakeria, Papa's Cheeseria, Papa's Donuteria, Papa's Pastaria, Papa's Cupcaketeria, Papa's Hot Doggeria, Papa's Wingeria, Papa's Pancakeria, Papa's Freezeria, Papa's Pizzeria, Papa's Burgeria, the three original Papa Louie Games, and plenty others! Yes, you read that right, we said that there are others, although we have already lister about 20 games or more. The franchise has kept on expanding in the years that it has been active, and the fact that each new game is awesome and fun, it is not surprising at all that the games keep being made, since they seem to resonate very well with all those who play them, so more games are always welcome, isn't that right? These games are fun because they are simple but complex at the same time, and each new level you go through you have to step up your game. Papa is an entrepeneur and a cook who can make almost any food, so he started all of these chains of restaurants, all of them focusing on only one thing. In all of these restaurants, no matter which one you play, you will be an employee, tasked with taking the orders of the clients, making the respective orders accordingly, so that you do not offer them something different, and serving them. Of course, at the end of these actions, you receive the sum of money the food was worth, but you also get tips. Like all emplyees, your goal in each level is going to be to try and earn as much money as possible before the day ends, and get as few complaints from customers as possible, because too many of them could cost you the entire game, something you certainly do not want to happen, right? Now that you understood the main idea about the games, really nothing should be holding you back from starting to play them right away, since, now that you know how they work, you are surely going to do a great job from the get-go, no matter which game from this page you choose to play. In the end, we invite you once again to start playing Papa Louie Games, but we also hope that you will invite your friends as well, since they will surely appreciate that you directed them towards a website where they are able to play all the best games from this series! When you are done playing Papa Louie Games, you should definitely check out other categories as well, and you will not regret it!