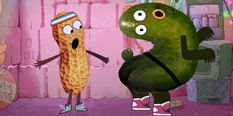 Pickle and Peanut Games
🤔 What are Pickle and Peanut Games?
If you were looking for the best and most fun Pickle and Peanut Games online, then you have come to the right place, as on Friv Games Today you will be able to play them all, for free!
Pickle and Peanut Games
On Friv Games Today you can always play some of the most fun Pickle and Peanut Games online on the internet, because our website always tries to offer players from all around the world some of the most interesting games online for free. As some of you may already know, the Pickle and Peanut Games 2016 category is one of the newest Disney XD Games online categories from our website, because the cartoon it is based upon has been airing on Disney XD since 2015, being one of the most recent original shows from Disney XD. It is known that Disney XD is a channel that offers some of the best cartoons and live-action shows that are aimed mainly at teenagers, and especially boys. That is because these shows have more action, adventure and interesting stuff. Of course, we invite boys and girls to play the awsome new Pickle and Peanut Games online that we offer here, because they are universal, and they can be played by any kind of player! Now, maybe some of you haven't seen the show, or even heard of it, so that is why we are going to tell you more interesting things about it in the continuation of this description, where everything you need to know about online Pickle and Peanut Games will be found. Pickle and Peanut is a show that follows two small town boys and best friends, Pickle and Peanut, who are exactly like you thought, a pickle and a peanut, who are anything but ordinary. You can see the many adventures of these two besties, who are going trough a journey to adulthood, during their last ever year of high school. The misadventures of these two characters form the content of the show, which uses a combination of animation and also live action elements. Pickle is a friendly pickle, and Peanut is Pickle's best friend, who wants to be cool and popular. Together they often cause all sorts of mischief. There are also other characters in this show, like Mr. Mjart, a businessman who has his own shop, Lazer, who hates Pickle and Peanut, Champion, who is a heroic and muscular horse, or McSweats, another friend of the duo's. Together with these characters, and of course, many other more, you will be able to play some of the best Pickle and Peanut Games online, only here, on Friv Games Today! Maybe you are curios as to what kind of Pickle and Peanut Games 2016 you will be able to play here on this page. Well, you will play puzzle games, where you have to solve puzzles, coloring games where you will colour these characters however you want it to, memory games where you have to pay attention, and other. Maybe you will go inside the shop and wreck havock, or mess around with a tiger, you never know what kind of interesting adventure you can take part in by playing the great new Pickle and Peanut Games our site has to offer!