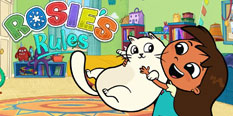 Rosie's Rules Games
🤔 What are Rosie's Rules Games?
Play Rosie's Rules Games to learn more about the world around you, all the while having tons of fun making new friends!
📂 Related Categories
Rosie's Rules Games
Rosie's Rules Games is one of the newest categories of our website to be inspired by a show from PBS Kids, who regularly bring about some of the most interesting and fun educational animated series for kids, and what's even more important, for us, at least, is that the games based around them also represent that, and are always really fun from start to finish, just like you're about to see right now!
Rosie lives in a blended family in Texas, with her father from Mexico City, and her mother from Wisconsin. She has siblings, both full and half, and day after day she learns about the cultures from both sides of her family, being surrounded by them, as well as their friends, colleagues, and acquaintances.
Rosie's Rules are quite simple: always strive for the best, and aim to make each day a new learning opportunity, which she does episode after episode, with each of them having educational themes, both for practical reasons, but also with emotional lessons, as the show aims to teach children to be good people, of course.
This is also represented in the games with Rosie's Rules that you can find and play here free, where you go about her town in a car for Riding with Rosie, and then have some relaxing and creative time in the Slime Store.
This is only the beginning of this category, as the show had only just begun airing, so we are sure that they are going to stick around with us for quite a while, and you can bet that our team will always be the first ones sharing these lovely games with you!