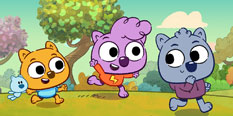 Work It Out Wombats Games
💡 Play similar online games!
🤔 What are Work It Out Wombats Games?
Play Work It Out Wombats Games, and learn how to solve any problem that comes up in your day-to-day lives!
📂 Related Categories
Work It Out Wombats Games
Work It Out Wombats Games is a category that arrived on our website very soon after the show with the same name made its premiere on PBS Kids, a national broadcasting channel aimed at children where all of its shows are poised to help kids learn, understand life, and become good-natured adults, just like the games based around said shows do, and we promise you right now that the very same is about to become true of this new game we're sharing with everyone!
Play Work It Out Wombats Games to learn and have fun!
Three wombats siblings, Malik, Zadie, and Zeke live with their grandma in a complex apartment that is in a tree, where there are other treehouses as well, all of them making up the Treeborhood, the biggest treehouse that has ever existed, where anything can happen, and it does.
When the three kids deal with some kind of problems, they are naturally curious about how to solve them, so they figure out what the issues are, determine a strategy, attempt it, and if it fails, try something else, until they find the solution, with the show and games aiming to teach kids more about the process of solving problems or setting up systems, just like in coding.
They don't do this only for themselves, but for their many neighbors, who can be other animals as well, such as eagles, kangaroos, snakes, and, of course, other wombats. Even adults join them in the fun, maybe give some useful advice, and together they have simply a blast.
The category's first two games will also prove this concept, as in Step It Out you have to figure out what are the proper steps to having a perfect day, and in Road Repair you use the proper shapes to fix holes in the roads so that the kids can go on the adventure they always dreamt about.
These are only the first two additions to this category, of many to come, we're positive, so if you love this show, or have already fallen in love with the games here, we recommend coming back to our website as often as possible, since we will always be the first ones sharing the games with Work It Out Wombats online for free, unblocked, and ready to play!