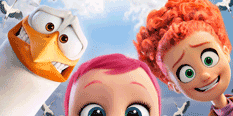 Storks Movie Games
🤔 What are Storks Movie Games?
You are going to have a lot of fun playing Storks Movie Games on our website, which is the reason that we created the category in the first place, and added the Storks Games in it. Whether or not you have seen the movie, we encourage you to try these Storks Movie Games, as they are all lovely games which deserve to be played. Good luck!
Storks Movie Games
We are currently expanding GamesZap.com in order to have more and more new and fun games to offer to you all, and the latest category that we have created for you is the Storks Movie Games. Only yesterday was a new trailer for this movie relesead, so we are pretty sure that many of you who watched it are very excited for it, which maybe even brought you to the Storks Movie Games category. Even if there are a few more month to wait to see this great new animation movie, you don't have to wait at all to start playing Storks Movie Games, which is something which you can do and which we invite you to do right now, only on GamesZap.com. There is not much we can tell you about the film as of yet, as we haven't seen it, only the trailers, but we are going to do our best to offer you as much information about it as possible, right here, in this description, which we hope will only get you to want to play Storks Movie Games even more. So, we invite you to continue reading the description, and then start playing Storks Games, only on our website! You might know that children are being told that babies are brought to parents by storks, who put the babies in the chimney or on the front door of the parent's house. Well, the storks haven't been delivering babies for a long time, as they restructured their bussiness model and are now delivering products for an internet retailer. It's more profitable, and since internet shopping is more and more used, the storks are always busy delivering all kinds of packages. Junior, the main character of the film, who is also a Stork, is set to inherit this stork delivery company, but one day, he somehowe receives a little cute baby to receive. Together with Tulip, the only human to work at the company, he sets out on an incredible adventure to deliver the baby to it's parents. On the way they face off all kinds of dangers, meet wolves and dogs, battle penguins, and go on incredible adventures while the family patiently awaits their baby. With a premise like this, we are pretty sure that the movie will not dissapoint, that it will be a very fun and funny movie, and children all over the world are going to enjoy it. We think the same thing can be said about the Storks Movie Games on our website, which are not many so far, because the movie has not yet been released, but we are certain that as the premiere keeps getting closer and after the premiere, the number of Storks Game is going to grow very much. Until then, why not enjoy the Storks Movie Games we already have added for you, like two fun puzzle games, for example? When you are done playing Storks Movie Games, you can always play all kinds of other fun games on our website, and we hope that is what you will do! Good luck!