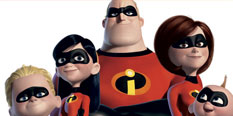 The Incredibles Games
🤔 What are The Incredibles Games?
The Incredibles Games, or Incredibles 2 Games is our newest category of Disney Games and Pixar Games from our website, which we are sure that in 2018 is going to become one of our most popular categories, thanks to the release of this animated sequel. Check out all of the great games we have added in it, and we are sure that you will be having lots of fun!
The Incredibles Games
The Incredibles Games, also titled Incredibles 2 Games as well is one of the newest Disney Games and Pixar Games categories we have for our website, which we have no doubt at all is going to become a hit, and the reason for that is because The Incredibles, a 2004 film from Disney has been extremely popular both when it was first released in theaters, and many years after that, and people have requested a sequel for many years, and it is finally happening in 2018, which is definitely going to be a great year for animation, with lots of awesome games as well being expected! This movie is going to be released in summer, but by that time we are going to make sure that we will have quite a developed category of Incredibles Games, in which we will make sure to add all of the games based on the first movie, as there are quite a few of them available all over the internet, and not only that, but the release of a new animated movie always means new games being created based on it, whether released by the official websites of the films, or them being fan-made games. No matter the case, we are going to move fast and make sure that any new Incredibles 2 Games are going to be promptly added on our website, which is something that we are sure is going to make lots of children world-wide happy, and this is going to once again prove why it is that you should visit our website as often as possible, because that is the only way that you can stay on top of new releases when it comes to games based upon your favorite cartoons and more. Trust us when we say that you do not need to have seen the first movie to enjoy these games, as we are sure that lots of you are young people who never before saw the original. Well, precisely for you this description is going to be really helpful, since in it we are going to explain what the movies are about, who are the central characters in it, and after that we are also going to tell you what kinds of The Incredibles Games you will be able to find and play here, and we are sure that all of this information is going to make you really interested in playing the games, so we are going to start right now! The series follows the Parr family, who at day are a normal family, but when there is danger lurking in their city and in the world, they come out as The Incredibles, masked super heroes with super powers always ready to help anyone in need. The movies focus a lot on them trying to maintain their secret identities, all the while trying to balance the normal life they have with the super hero lives that they also have, and their different super powers. Through the movies they have to face all sorts of different powerful villains, while trying their best to stay a united family, and get past anything they encounter, together! Bob, the father, has super strength, his wife Helen can stretch her body like rubber. Their daughter Violet can become invisible and use a force shield, and their son Robert has the ability of using super speed. They also have a todler, Jack-Jack, who, at first glance did not have any super powers, but he develops some later, like laser eyes and shape-shifting, and this is one of the aspects that it is going to be touched upon greatly in the sequel. Quite interesting, right? Well, now that you have learned all of these things, we are sure that you are curious about what kinds of The Incredibles Games, and we are going to tell you right now. Well, the category is quite diverse, as it is going to include action games, adventure games, skill games, super heroes games, but also games such as coloring games, memory games, puzzle games, hidden numbers games, hidden letters games, differences games, dress up games, and many others, so you have nothing to complain about in this category regarding variety, as we are certain that everyone is going to find at least one game to their tastes, but probabily more than one. With that being said, everything that we wanted you to know regarding our The Incredibles Games category has been put out here, so now it is your turn to start playing the games, and have fun like it is quite frankly possible only here, where we have the biggest diversity of high-quality games. We really hope that you are going to visit us as often as you can, and have fun all the time!