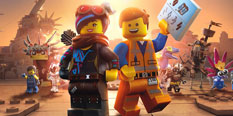 The Lego Movie Games
💡 Play similar online games!
🤔 What are The Lego Movie Games?
You now all get the chance of playing some of the best The Lego Movie Games on the internet, and only on our website, so browse this page right away, and see for yourself why we think so, and we are sure that once you get hooked with one game, you will not want to stop playing them!
📂 Related Categories

Lego
The Lego Movie Games
The Lego Movie Games is a category of Lego Games that has been a long time in the making now, and we are very happy that we can finally share with you all the games from it, and there is no better time than right now, because the second movie in this franchise, the sequel to the beloved original title from 2015 is returning in February of 2019, where children all over the world will be able to watch their favorite characters from the Lego world, back at it again in The Lego Movie 2 The Second Part, which we have no doubt at all is going to be a smash-hit for cinema aimed towards children and teens, especially since the first movie was one of the biggest hits of that year. Characters that you really loved from the first movie are returning, and we will have all sorts of other new Lego figures joining the fun, so we are positive that a really awesome time is going to await you all on our website right now, with the games based around the movie. If you have already seen the original, or maybe you just came home back from watching the second part in cinemas, we are sure that you will jump right into playing The Lego Movie Games of our website, which is something that you are going to have a lot of fun with, guaranteed! For the rest of you, who might not be familiar with the franchise, we invite you to continue reading this article to the end, because from it you will learn what the two movies focus on, who are the main characters we follow in them, and, of course, we are going to end things off by telling you what kinds of Lego Movie Games online you will be able to play here for free, and we are sure that even if you don't like Lego at all, when you finish reading this, the only thing you will want to do will be to start playing these games and have an amazing time! An ordinary Lego figure is at the core of these movies, a construction worker by the name of Emmet, who is the only one that can stop an evil businessman of taking over the Lego world, and transforming it into the world of his visions, which is something that no one wants, and would really ruin the magic of Lego bricks. That's what happens in the first movie. He is joined in his quest of saving the Lego world by characters such as Lucy, Lego Batman, Metal Bear, Unikitty, or some of your favorite heroes from DC, such as Superman, Green Lantern, and Wonder Woman. In the second movie, the Lego world has become a post-apocalyptic wasteland, which has been invaded by Duplo toys, and their leader, Mayhem, has kidnapped Emmet's friends and took them in a really bad place. That is why Emmet will then have to team up with Rex Dangervest, an intergalactic hero, to save the day, of course! Now that you know what this world is all about, why not read up on the world of our The Lego Movie Games, no? Well, the category may not be really big, but it has plenty interesting games for you to check out, such as dress up games, puzzle games, differences games, hidden objects games, adventure games, action games, skill games, and more! One thing is certain, there is no way you are not going to have lots and lots of fun with these games, so the only thing that remains now for you to do is to actually check them out, and see for yourself why we believe they are worth playing! Don't stop the fun here either, as you are invited to check out the Lego Games category too, where you will be able to find games from other places in the Lego world and continue having fun there. Of course, we have hundreds of other kinds of categories as well, so explore them too, and don't hesitate to invite your friends here too, because the more of us are here, the more fun everyone is going to have!