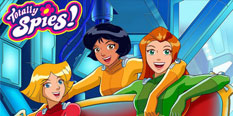 Totally Spies Games
🤔 What are Totally Spies Games?
Well, you can now find and play for free on our website the most amazing Totally Spies Games online on the internet, all of them being really interesting and fun games to play, with some of the most beloved characters in the history of cartoons, maybe ever!
Totally Spies Games
You are now on the Totally Spies Games category page on Friv Games Today, which is one of the categories that we are most happy about here, since it is one of those classic categories that we are sure is going to stick around for years to come, considering that Totally Spies is already a cult classic when it comes to animated series for children, with the show having started way back in 2001, and until 2014 it was still on the air, having no less than six seasons, with a total of 156 episodes, making it quite a long-running show, and one that has been praised by audiences and critics alike all over the world. Yes, this category of Totally Spies Games is for everyone, since this show has really crossed boundaries, and we know it for a fact that it is quite a hit all over the planet. Of course, while new episodes are not being produced, that does not mean that the show is not discovered even today, since there are still television channels that are airing it, and it can also be streamed on the internet in various places. No matter if you are an older fan of the show, a younger one, or you don't even know a thing about the show, you are all invited to check out Totally Spies Games and have fun with them! Yes, you read that right, you can play this game even if you don't know anything about the world in them, since this is how some members of our team played the games, and they still enjoyed them a lot! Now, if you are among those people who have come to this page without knowing a thing about our favorite spies in the world, but would like to know more about them before you check out our Totally Spies Games, then we invite you to read this following part of the article, where we tell you what the show is about, who are the characters in it, and afterward we also tell you what kinds of Totally Spies Games online you will be able to play here for free, and we are positive that reading this all through the end will give you the excitement and passion to start playing these games and having fun with them right away! In the show, we follow three teenage girls by the name of Sam, Alex, and Clover, who are not your usual teenagers, and the reason for that is because they are also secret spies, working for WOOHP: World Organization of Human Protection. They have been recruited by and are lead by the organization's leader, a man by the name of Jerry, and their missions are of all sorts of kinds, with the goal in all of them being to stop humans from being hurt in one way or another. Thanks to the girls and their activities, crime conditions all over the globe are being solved. Most of the villains in the show are people who have been wronged in some form or another and are trying to have their revenge, and some of them even try to mess into the girl's normal lives. Usually, in addition to the plot regarding the secret spy mission they have, there is a second storyline in each episode about the girl's normal life, such as their school life, their relationships with boys, and of course, there are lots of times where they have to deal with Mandy, their arch-nemesis! Sam, the green-suited redhead of the group is also the intellectual one, who always tries to find the rational solution. Alex wears yellow and is the tomboy of the group, loves animals, to express her feelings, and is quite childish at times. Clover, the spy in red, is the one who is most girly, as she loves shopping, fashion, and cute boys. She is probably the strongest, and the one who always does before she thinks. As for the Totally Spies Games that you will be able to find and play here for free, they are quite varied, as they are going to include hidden objects games, dancing games, puzzle games, fighting games, memory games, dress up games, shooting games, bubble games, adventure games, and more. Good luck to you in all of the games on this page that you are going to play, and we invite you to try out as many of other of our games too since there is no way at all you are not going to love them and have a great time with them!