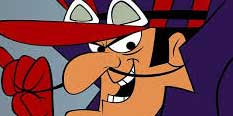 Wacky Races Games
🤔 What are Wacky Races Games?
Welcome to our category of Wacky Races Games, which is a category of Boomerang Games recommended to everyone, where you are guaranteed to have a lot of fun, like with all of our other categories as well, without a doubt What are you waiting for, then? Start playing Wacky Races Games, and we can guarantee you will not regret it!
Wacky Races Games
Wacky Races Games is the newest category of Boomerang Games created for our website, which we have no doubt at all is going to become very popular, and it is a category that was really needed for our website, because we have searched the internet and we have seen that there are not that many websites out there to offer these new Wacky Races Games, especially the new games, which are based on the new series, so here we are, coming to the rescue once again, and proving just why our website is the best possible place for you to find online games and play them, and have a fantastic time doing so each day of the year, when we always bring awesome new content. As you can clearly see, we are at the top of our game, since this new version of the Wacky Races has not even properly became popular, and we have already created the category and brought games in it. Different from most of the shows on Boomerang, this one has first been released on the SVOD system, and only afterwards it also began airing on television, sometimes in June of 2017, but not on all of the channels world-wide. Still, we know that when a series usually comes out in the US, it soon also makes it's way all over the world as well, which is what we are positive is going to happen to this series as well, and by that time, we will already have been prepared with some of the best Wacky Races Games on the internet, and as long as the show is running, or as long as there are games to be made after the show, you can make sure that if you visit our website, you will find them here first. Now, what many of you might not know, especially if you belong to the younger generation, is that Wacky Races is not actually a new and original idea, as it is actually a reboot of an older series, which aired for one season from 68 to 69, so more than forty years in the past. Of course, that means that you probably never seen any episodes of the show, and that is no problem, since the new one is from 2017, has top-notch and fresh animation, and brings the series in the modern world, making it more accessible, more fun, and with all sorts of new adventures for you to see. If you want to know more about what happens in the show before you start playing Wacky Races Games, you are kindly invited to continue reading this description, because from it you are going to be able to find out about it's plot, characters, and, of course, when you are done with this part of the description, we are going to tell you what kinds of Wacky Races Games are available here, and we are positive you will be satisfied with your findings! Well, the show follows a bunch of amazing Hannah-Barbera characters, all who have cars which they ride, and they do it in races, so in each episode, you will see them racing on tracks all over the world, making it possible for you to learn about all sorts of parts in the world, but also have a lot of fun watching the characters and their cars. Some of these characters include Muttley, Penelope Pitstop, Peter Perfect, or Tiny and Bella, but in addition to these classic characters, there are a bunch of newly created characters added to the roaster, to make for an exciting cast, and to make the episodes feel fresh and awesome. Does it not sound really awesome? Well, it certainly is, so let us now tell you about these games, shall we? Well, you will certainly find classic formats here like puzzle games, coloring games, or memory games, but the highlight of the series is the game called Sling Races, where you are going to race against other characters, and we say that this is the highlight of the series because it is the first game to be based on the reboot series of 2017, so expect awesome animation and gameplay. Well, because we have told you everything that we wanted you to know about our category of Wacky Races Games, we want to invite you to start playing the games right away, as you should not waste any time when it comes to having fun, wouldn't you agree with us? Well, start playing these games then, have a really wonderful time, and when you are done, remember to check out other amazing categories on our website, since we have a lot of them, and the only reason we created them was because we knew they were great to play, so why not do it right away?