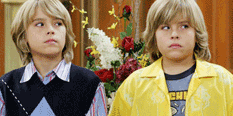 Zack and Cody Games
💡 Play similar online games!
🤔 What are Zack and Cody Games?
We are very happy to present to all of you on our website the Zack and Cody Games category, one of the latest categories of Disney Channel Games that we have, which we are sure you will find great, and you will have a great time playing the games from it!
📂 Related Categories
Zack and Cody Games
We here at GamesZap.com are always trying to offer children from all over the world as many great new games to play since we know that there are a lot of them coming to our website looking for them, and we want to be able to provide them. For that, we create categories for each show or film that certain games are based upon, making it easier for the users on our website to find the games that they want to play. Well, the games that you have the chance to play right now, from this page, are called Zack and Cody Games, which is the latest category of Disney Channel Games that we have created for all of you, for which we are very excited since the show that the series of games is based upon is one that the administrative team of this website has grown up with, so we are very happy that we can finally share with you the amazing games based upon this series.
When the show started in 2005, it had the biggest premiere for any show on their network, so it was no surprise that the show managed to be very popular during the three years that it ran, and then afterward, in 2008, because then a spin-off and a sequel to the show was created, continuing the adventures of these characters in a new environment, with more adventures to be seen by all of us. The most loved game of this category is from far
Zack and Cody Pizza Party Pickup
, a Flash game where you have to pick the food for the party in a Pac-man style game.
The first series, the one that started in 2005, was called The Suite Life of Zack and Cody, and the second one was called The Suite Life on Deck, so if you know the show by these two titles, then we have made sure to include the keywords The Suite Life of Zack and Cody Games and The Suite Life on Deck Games into this description and for each game of the series, since we want you to be able to find these games easily, and of course, find them on our website, because we are the only ones to offer you the complete collection of games with these characters, and we are sure that on our website you can have the most possible fun with these games. Now, since there have been 6 years since the show had its finale episode, we are sure that many of you, especially the younger visitors, not to be familiar with the show and its characters, so you might not be sure yet if you want to play Zack and Cody Games or not.
Well, we will make sure you become interested in them, by offering you details about the show and its characters in the next part of the description. There is simply no way that after reading all of these things, you aren't going to become very interested in the games and give them a go immediately. Of course, in the end, we are also going to tell you about what kinds of Zack and Cody Games you will be able to find and play on this page, so make sure you keep reading until the end. Well, the show is set around two main characters, two twins, Zack Martin and Cody Martin, who live at the Tipton Hotel in Boston. They live there because their mother is the singer of the hotel's lounge. Other main characters that the show is focused on include the rich teenage daughter of the owner, London Tipton, who is a really ditzy girl, Maddie Fitzpatrick, who is a down-to-earth girl who works at the candy-counter and let's not forget about Mr. Mosby, who is the strict manager of the hotel who usually stops the schemes of the boys. In the spin-off show, the action moves to a cruise boat, where the two main characters, Mr. Mosby, and London are joined by new characters in their adventures, this time on the sea. Now, let's talk about what kind of Zack and Cody Games you will be able to play, shall we?
Well, in these Zack and Cody Games you will usually go on all sorts of adventures which have been inspired by the episodes of the show, where you have to complete some sort of tasks, and just like the show, they are never dull or boring, so we are certain you will have a really great time playing them. Well, that is about everything that we can tell you about this category in this description, so we now kindly invite you all to begin playing Zack and Cody Games right now and start having fun on our website with these Disney Channel characters, because we are sure you won't regret it even one bit. We wish you good luck at any game you will try, and hope you will have an awesome time!