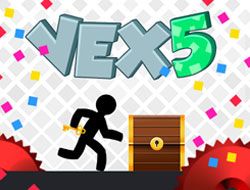 Vex 5
🎮 Vex 5
The Vex Games series has not died out, even if new games had not been created for it in a while, as right now we have the latest installment in the series to share with you, the game called Vex 5, which brings back everything you love about the series, in a new package, and with a mobile-friendly technology so that you can play this game wherever you are!

If you're not at all aware of this series, don't worry, since we will bring you up to date right now! You will have a stickman avatar with which you have to go on an adventure from one act to another, which is how the levels of the game are called. Reach their end to clear them, and take advantage of the checkpoints you have to clear along the way.

You use the right and left arrow keys to move, the up one to jump, and the down key to slide. Among the obstacles and traps, you have to avoid we have seesaws, spikes coming from the ground, and more of them, in all sorts of creative ways. Don't bump into them, or you are turned back to the previous checkpoint.

There will also be blocks over which you can jump and move, but with different attributes. The purple blocks easily fall down after running on them, the green ones are stable but they move right and left, you can go up and down with the blue ones, and you have orange ones which you can use to bounce up higher.

Use the blocks and your skills to clear each level, figuring out each mini-puzzle along the way so that you clear a path and move forward! Good luck with that, and don't forget to invite your friends to also play this and all of our other awesome new games of the day!

How to play?
Use the arrows.
Cool Information & Statistics
This game was added in 26.11.2020 09:00 and it was played 711 times since then. Vex 5 is an online free to play game, part of the Vex Games, that raised a score of 88.9/100 from 18 votes, and 0 comments.