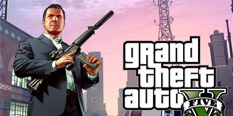 GTA Games
🤔 What are GTA Games?
Our GTA Games for the free offer you the chance to explore, shoot up gangsters, drive fast cars, steal them, and other fun virtual stuff with some of the best action-adventure games in 3d from our website!
GTA Games
Once in a while, a video game comes and rocks the world of video games, changing it for the better, and making a lasting impression all over the world and for many years to come, and we're highly positive that this had been the case with Grand Theft Auto, the first game in this franchise to have appeared way back in 1997, having been released by Rockstar Games, who have consolidated themselves as one of the biggest video games companies in the world.

Rockstar studios proud themselves in being a company that makes sure games are perfect before they get released, which is why it takes quite a few years before new games in the series appear, with the last one having been GTA V, the fifth main game in the series, which was released in 2013, and it is still considered one of the best games of the last decade, and a true accomplishment in the world of sandbox games and open-world games.

Boys and men love action games, guns, stories of gangs and rivals, fights, awesome cars that they can race, as well as exploration, all of them being elements that have made the Grand Theft Auto Games classics. They have amazing graphics, awesome storylines, great music that gets you even deeper into the world, and all-around fun that you can have, with the games being quite large in the size of their map, story, and collectibles.

GTA Games and how they work
While all the games in the Grand Theft Auto franchise have something new to bring to the table, but they still have all sorts of common elements from one to another, and we are now going to give you more details on them so that you get more familiar with this world if it is new to you, and which will surely make the experience of playing online GTA Games online even better.

The world of the games are urban ones, inspired by real-life cities such as New York, Miami, or the whole state of California, but instead of using their real names, they are named Liberty City, Vice City, or San Andreas. They have open worlds, meaning that you can explore the cities and locations to do the main missions, but you can also do all sorts of side-quests and other fun stuff, without having a given structure to follow.

Things that you can do in these worlds include everything from taking parts of different adventures filled with action, you can drive your cars around the city or steal cars, which was obvious from the game's title, use the cars in different illegal races, buy weapons and use them in shoot-outs, with the games being third-person shooter games as well, go on secret missions that require you to be stealth, and more.

There are not that many games out there that give you the chance to fly helicopters and planes, smuggle drugs in and out of the country, shoot police officers, or rob banks as you do in these games. They are also popular for letting you customize your characters in all sorts of ways, from the way they dress to the weapons that they carry. You can also gather money from the jobs that you take as a criminal in the game, and use it to fund your own enterprise and become a boss yourself.

You do all of these things because the protagonists of these games are usually involved in all sorts of criminal enterprises of the underground world, through which they try to climb the ranks and reach the top, becoming the boss of the mafia, a street gang, and other criminal organizations. These protagonists usually have an arch-nemesis they have to defeat by the end of the game, such as someone who betrayed them in their past, for example.

In the latest releases, multiplayer elements have also been added, now that technology allows it, giving you the option of entering these vasts criminal worlds with players from all over the world, with whom you either co-operate, or you go against, with this also being available for you to do in a lot of GTA Games multiplayer for free that we have here to offer you, all worth giving a chance to!

GTA Games List
In case you're curious about the main installments in the series, as well as some of the spin-offs they have and have become really popular over the years, we are now going to give you all of the details you might need, so you become more familiar with this amazing world of free GTA Games online!

Grand Theft Auto 1 was released in 1997, where you are a criminal doing jobs for different syndicates through three fictional cities, and while you have to follow the orders and the story of the game, you can still explore the world and do various other things.

In Grand Theft Auto 2 (1999), the second game of the franchise brings back everything fans loved about the first one, with a lot of new elements, and the timeframe of the game being unspecified, and lots more awesome action missions have been added for players to go through!

Grand Theft Auto III, which had been released in 2001, is set in Liberty City(inspired by New York), and it has a third-person camera, taking advantage of the technology available at that time, and it had also been the third 3D game in the series. Claude is the main character of the game, a criminal left for dead who gets mixed up in the criminal dealings of different gangs in the city.

Grand Theft Auto: Vice City is one of the most beloved ones in the series, has been released in 2002, and it was one of the games to have been modified the most, with a lot of mods being created over the years. It is set in 1986, following the story of Tommy Vercetti, who was recently released from prison, and together with him, you explore the underground world of Vice City, a stand-in for Miami.

In 2004 we got another classic that gamers really remember fondly, the one and only Grand Theft Auto: San Andreas, with the title location having been inspired by the state of California, and the story of the game follows CJ, who came back to the state after the death of his mother. He used to be a gangster, and now that he is back on his home turf, he is going to get back into the criminal world, with you exploring it like him.

Grand Theft Auto IV got released in 2008, and it became the year's best game, received widespread critical acclaim, and it was the best-selling video game in the world at that time. Niko Bellic is the main character we follow in it, a war veteran who is trying to escape his ugly past of crime, only to be brought back into the world by the pressures of mob bosses and loan sharks. It also marks the return to Liberty City.

The latest main addition to the series has been 2013's Grand Theft Auto V (GTA 5), set in San Andreas and the city of Los Santos (inspired by Los Angeles), and different from previous versions, it features three main characters with whom you go on missions with, as they are forced to do all sorts of heists at the pressure of evil government agencies as well as criminal bosses. Alongside it, Grand Theft Auto Online had been released, the multiplayer version of the game which can host up to 32 players in one round and mission.

Grand Theft Auto: Episodes from Liberty City represent an expansion pack made out of two separate games. In the first one, you get the chance to become the leader of a bike gang and do all sorts of missions involving criminals on motorcycles, and in the second one, you have to help a night-club owner deal with all sorts of problems he and his shady dealings had been having.