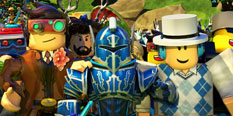 Roblox Games
💡 Play similar online games!
🤔 What are Roblox Games?
Join us in the world of Roblox Games online, which you can now play for free on our website, where you can test your skills, improve them, or even be creative and create your own fun mini-games!
📂 Related Categories
Roblox Games
Even if a certain franchise has made itself popular in the world of PC gaming or that of console gaming, it still manages to have a lot of games based on it in the world of online gaming too, because not everyone has the devices needed available, but if you have a computer and browser, you can have almost the same kind of experience, for free, and on our website, always! This is what happens on this page as well, where you can now play Roblox Games online, something you might not have imagined you could do.

How is it that you can play games on your browsers on GamesZap? Well, the main reason is that we've created original games for this series ourselves, and we were the first ones to see the potential of fun that games based on this franchise could have, so we made sure to move in quickly and make this page, where we are now positive is the go-to place for kids to find and play browser games for free!

If you are a fan of this world already, we are sure that nothing is going to hold you back from starting these awesome games and having fun with them right away, but, if you are new to this whole premise, allow us to make you familiar with it right now, after which we are sure you will be even more interested in trying the games out!

What is Roblox?
This trend is not just a game, but, rather, a collection of games, and a platform for gaming, one that allows users to create their own mini-games using the technology and engines, making the experience an interactive one, and one where kids and adults alike from all over the world can showcase their creativity with the incredible games that they make and share with users. The fact that there are currently over 100 million active users should give you an idea about how popular this whole world is.

The programming language that is used to code the games is called Lua, and Roblox is available to use on different platforms such as Windows Computers, macOS, iOS, Android, as well as XBOX One. This is not a new project, as the first beta versions of the game started way back in 2004, with the platform getting more developed and bigger over the years, and the more it grew, so did its fanbase, making it the juggernaut it is today.

Roblox Studio is the name of the engine used in the creation of the games, and the users can create items that are purchasable, so there are microtransactions in many of these games. Robux is the name of the currency used between users and developers, and if you have created content for this platform, you can earn money from it.

You can create your own avatar and character, and you can buy, sell, or create virtual items, but some of the things can only be sold by administrators and people of higher levels, and there are also special premium items that are available for a limited time only, and only people with a premium membership can trade them.

Usually, the games featured on the platform are self-contained, but there can be special events with more people participating, such as Easter Egg hunts, or the Developers Conference, which is a real event where makers of games get together to discuss their latest projects and how the game can get bigger and better.

One of the main points of attraction to so many players all over the world is the way that the characters can be designed in these games, them being blocky in a way, but not so much as Minecraft, but more like Lego figurines, and the fact that you can then customize them in all sorts of ways that your imagination dictates you. The most popular of these characters are also going to be featured in our games here!

The most popular Roblox Games
Considering that the engine allows for quite a lot of possibilities when you make your games, there are plenty of genres included on the platform, such as racing games, simulator games, RPG games, as well as obstacle course games. Let's talk a little bit about the most popular and most played games on the platform, after which we also give you details on the kinds of games inspired by Roblox that you can play for free online, only on our website!

One of the biggest hits out there is Adopt Me!, where you can play the role of a child being adopted, as well as that of a parent adopting a child, it is up to you. It became notorious on April Fool's Day for including a pet rock, prompting a lot of players worldwide to log in and play. There are pets that you can trade in the game, and it is one of the games on the platform where kids of a younger age than most play it.

Natural Disaster Survival is a game that has been compared to PUBG, where players have to try and survive all of the natural disasters thrown at them: storms, landslides, earthquakes, hurricanes, tsunamis, and more. Welcome to Bloxburg is also inspired by a huge PC game, this time The Sims, where players get to create their own cities and the people living in them. One classic game is Work at a Pizza Place, where players work at a pizza shop and try to sell as much of it as possible.

Other notable examples include Jailbreak, where you can play the role of a cop or that of a robber, featuring lots of fun heist elements and plenty of action. If you want an awesome multiplayer Roblox game, try Murder Mystery 2. Players are assigned roles, such as that of the murderer who has to kill everyone else. Of course, you can take the role of target and try to survive for as long as possible so you don't become a victim.