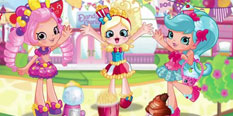 Shopkins Shoppies Games
🤔 What are Shopkins Shoppies Games?
You now find yourself on the Shopkins Shoppies Games category, which is one of the most amazing and biggest categories of games we have on our website, so it is our pleasure that right now we get to share with you these games, and we are sure that they are going to provide children with joy for many years to come, only here!
Shopkins Shoppies Games
You are all now invited to the Shopkins Games category, which is the page on which you find yourself right now, and where you are about to find a wonderful world of new games that you are not going to want to get out of once you start playing these games, and we know this is the case because the same thing can apply to our own experience with these games, which has been the main reason why we knew that time could be wasted, but that we had to bring this page of Shopkins Games on our website as well, and something tells us that you are going to have an amazing time from beginning to end, like we hope is the case with all games we bring over. On our website we work very hard to keep creating interesting categories, and that is why we seek inspirations in all sorts of media, just like it happened with this series of friv games, which is inspired by a toy line, which is what Shopkins Shoppies are. It began as a toy line in 2014, and since then there have been three animated movies released for it, and a web series too, so all of these things have contributed to these characters becoming more and more popular, which is why at this moment you can find so many amazing Shopkins Shoppies Games online for free, and we are glad that you chose our website to play them. Yes, you could have went to other websites to find these games, but trust us when we say that there is no other website that has a page of these games as developed as ours, which is why we are always the best source for online games on the internet! If you are already familiar with these toys, or maybe even these games too, nothing will hold you back from starting to have fun with them at once, no? On the other hand, if being on this page is the first time you have heard about this world, you might be interested to know more about it before you start playing the games. You can skip this, as these games can easily be played and enjoyed even if you do not know anything about this world, but if you are curious, keep reading. We will tell you details about the toys, the main characters in it, and afterward we also tell you what kinds of friv Shopkins Games for free you will be able to play here, and we are positive you will be satisfied! The Shoppies are figurines in the form of girls, who are shopkeepers from which you can acquire the cute shopkins toys, and each of them have different hairstyles, hair colors, and are usually inspired by different cakes, which is evident in their color schemes and names. For example, we have Bubbleisha, who can sometimes be sweet or sour, just like the bubblegum that inspired her. Jessicake is sensible and always dressed smartly, while Poppete is always there when there is a camera, as she loves it, and she loves talking about the latest movie going around. There is also Donatina, for example, who is inspired by donuts, or Peppa-Mint, who always seems to lose her cool, but it is only because she is warm at heart. Now that you have gotten a bigger picture of this world and the characters in it, it is time for us to tell you what kinds of Shopkins Shoppies Games online you will get to play here for free, after which the only thing left for you to do will be to start playing these games at once, and have fun like only here is possible! The category is one of our most diverse ones, as it includes bejeweled games, memory games, coloring games, lots of dress up games featuring each of the main characters in the toy line, bubble shooter games, hidden objects games, jumping games, tennis games, or even make-up games. As you can see, the category is a diverse one, so we believe that all girls will be able to find something they like, and we recommend it even to the boys to give the games a shot, since they might discover they love it. Now, you really have no excuse at all not to start playing our free Shopkins Shoppies Games right now, and we hope that you won't stop here either, but that you are going to invite your friends over, because they might not know we have them, and they will also love to play them! Also, come back to our website daily, so that you do not miss out on any of the great games we bring you for free!