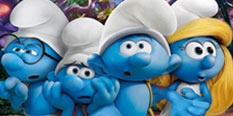 The Smurfs Games
🤔 What are The Smurfs Games?
On Friv you can now find and play the best online The Smurfs Games on the internet, so if you love these blue creatures and their interesting world, you are in the best place to experience their games, and if you have friends who love them too, make sure to invite them over!
The Smurfs Games
Welcome to a classic category of friv games that is going to be around for decades here on our website, considering that it is based upon a franchise that has also been around for more than five decades, which started as a series of comics from Belgian, in the French language, but over the years it has expanded to include several full-length movies, lots of animated series, tons of toys and dolls with these characters, video games, and, of course, online Smurfs Games, the best of which you are now able to find and play on our website, where we've made sure that only the highest quality games with Smurfs online have been brought over, so the fans of this franchise are going to be delighted and will find our website to be the best place where they can find and play these games! In case you are not familiar with the world of The Smurfs, worry not, since we're going to give you a proper introduction right now, which is going to make it easy for you to enjoy the games even if you were not used to this world before. The Smurfs are a race of blue-skin small creatures with big noses, who wear white trousers with a hole for their tail, and also have a cap on, and depending on the character, they can have things that are special to them so that you can differentiate them from other Smurfs. They live in houses shaped like mushrooms, and they live in big natural habitats where they made different villages that work with one another and are friends. The leader of the village and the race is Papa Smurf, who has red clothes and a white beard, who is older than everyone and can give important advice to the younger ones and lead the villages to prosperity because everyone turns to him when things go wrong. Smurfette is the main female character and Smurf in the series, who has blonde hair, who oftentimes thinks she knows everything and is admired by all because there are few female Smurfs out there, although in recent years there have been more female characters created, especially in the movie series. Other Smurfs are named and designed based on their personalities, such as Greedy, Brainy, Clumsy, Jokey, Chef, Handy, Painter, and more, each with their profession, personality, and design. Considering how varied the whole franchise is, the same is true for the different Smurfs Games online you can find and play here for free, which is why we're now giving you a more detailed look into this amazing category. If you love sports games for children you can check out snowboarding games, football games, if you are creative you can play coloring games, or you can check out learning games and educational games such as counting games, or skill games to develop different abilities. You will also have action and adventure games which puts the blue creatures in different scenarios, Smurfs dress up games to change their appearance however you imagine, puzzle games featuring images of them, baby care games, memory games, and differences games, and anything else you can imagine, all suitable for both girls and boys, no matter their age, since they are fun to play even if you are an adult, trust us with that! With that being said, you now know enough not to have an excuse to not check out The Smurfs Games friv currently offered to you on our website, since you need to play them to experience how awesome they are true! Also, remember that this is just one of the hundreds of categories currently available for everyone here, so we would recommend that when you are done playing the games on this page you check out more categories of ours, and maybe come back to our website day by day, so you do not miss out on any of the fun!