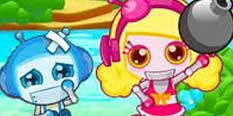 Bomb It Games
💡 Play similar online games!
🤔 What are Bomb It Games?
The best Bomb It Games online can only be found here, on our website, where we made sure to have a complete category of these games, since we know just how popular they are, so we wanted to make sure that you get to find them here as well!
📂 Related Categories

2 Player
Bomb It Games
The series of Bomb It Games that is currently available on the internet is one of the most popular series of online games we have seen, and it has been around for years now, it being based on the same series which was made for computer, consoles, arcades, and other devices a long time ago, and through these Bomb It Games it has made the transition to the online world, where it got a new life, and ever since the first game in the series, the games have been played plenty of times, and we are very happy that we created a category of Bomb It Games, because in it we plan to offer you all of the games in the series. We are doing this because we have noticed that not all websites where you find these games have the complete collection, and since we know that the series has a lot of fans all over the world, we thought it would be best to create a category of games where all the games in this series can be added, so that it will be easier than ever to find and play these games, having a wonderful time with them! We certainly had when we played them, so we are sure that you will do as well, even if you have not played any games in this series before. Of course, if you have, then you already know how awesome it is, and why it is worth your time playing these games, and that is what you are going to do right away. The rest of you, if some of you are not really convinced that you should give these games a chance, we invite you to keep on reading this description, because in it we are now going to offer you more details about what it is you have to do in the games, and not only that, but how you play them as well. When you are done reading this description you are going to have an overall image of the series, knowing what it is about, and not only that, but knowing how to play the games as well, which is certainly going to provide you with an advantage when you start, because you will be able to handle the game properly. Let's begin then, shall we? First of all, it is important to know that these are 2 players games, which means that there needs to be two persons at the computer, each of them controlling a different character. Because of that, there are going to be two sets of controls you need to know about. One player is going to use the W,A,S,D keys to move, and the space bar to plant a bomb, and another player is going to use the four arrow keys to move and the enter key to plant a bomb. Of course, you can play this single player as well, against the computer, and if that is the case, you are going to use the arrow keys to move and the space bar to plant bombs. In these games, the two competing players are going to move around in a maze, where they can plant bombs with the corresponding keys. Your goal is to try and trap your enemy so that you plant a bomb and make him explode. If you manage to do that, you win the round. Each level brings something new to the table, as there are all sorts of settings out there that you can play in. Of course, there are also all sorts of power-ups laying around which you should try and grab, since they can provide you with things like extra lives, the ability to walk faster, bigger explosion potions, protection shields, freezing the enemy, and many others. Use these to your advantage, and try to get them before your enemy does. As you can see, it is pretty simple, and really fun as well. There are about seven games in the series, which means that there have been lots of new things added since the first game, but we are going to let you discover those yourself, because we don't have enough space to talk about all of them. Now that we have told you what we wanted you to know about the Bomb It Games category, we really hope that none of you will miss the chance to play these games, and have a brilliant time! When you are done playing Bomb It Games, since you will surely try them all after trying one of them, do not hesitate to check out the many other categories we have on our website, since they all have amazing and fun games, games we added to give you the chance of having a terrific time on GamesZap.com!